Walking to Santiago: "One of the 12 finest new treks on the globe."
See Saranjan Tours in Outside Go Magazine April/May2008


Our unique departure includes overnight in Madrid and transfer
from Madrid to the Camino, and an extra day on the Galician
coast after arrival in Santiago.
Click Here for Our 2013 Camino de Santiago brochure
Saturday
MADRID
The tour starts in Madrid at your hotel in the heart of the old quarter. Feel the buzz of the capital of movida, the city that never sleeps, on a walking tour. Tonight sample Spain's delicious vinos and regional tapas in a medieval cellar by the Plaza Mayor. Overnight: central downtown ***—D

Sunday
MADRID • LEÓN
Travel north across the Plains of Old Castile to Roman León, the first stage on your walk to Santiago. Collect your Pilgrim's Passport in the Cathedral of glass and see the Sistine chapel of the Romanesque. Dinner among the pilgrims in an old taberna featuring the wines of Castilla León. Overnight: historic inn —B D

Monday
LEÓN • SARRIA
Continue west to El Bierzo Valley,famous for peppers and grapes and the Door of Forgiveness. Reach the highest point on the Camino at Alto do Poio. Here you begin the walk to Santiago, to a market town overlooked by its ancient fortress. 13 km Overnight: countryside inn— B D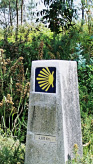 Tuesday
SARRIA• PORTOMARIN
Walk on to Portomarín where the old village was deliberately submerged by a dam; the village was rebuilt stone by stone above the
river. At dinner, contemplate the ruins barely covered by the Miño river as you enjoy the local organic meats and delicious godello wines of this corner of Celtic Spain. 21.5km Overnight: village hotel—B D

Wednesday
PORTOMARÍN • GONZAR • VENTAS DE NARÓN • PALAS
Walk on through Gonzar, a ghost town that still has a few lone canine inhabitants keeping watch. Pass Hospital, both inn and hospital for
medieval pilgrims; picnic lunch in the hospital's atmospheric ruins. Wade through high grass to a nearby church to see beautiful frescoes. 24km Overnight: countryside pilgrim's retreat—B L D

Thursday
PALAS • MELIDE• ARZUA
Pass through Melide and stop at the 12th c Church of San Pedro, with its distinctive Romanesque portal. You can collect your lunch in the market and relax with a view. Walk over the River Iso and discover the mystery of the labyrinth. Tasting the Wines of Galicia before dinner. 22km. Overnight: private manor house—B D

Friday
ARZUA • ARCO DO PINO
Spend the last night of your pilgrimage at Arca in a small countryside hotel. Dinner in the village. 19 km Overnight: village hotel—B D

Saturday
ARCA DO PINO • LAVACOLLA • SANTIAGO
Pilgrims, it's customary to wash at Lavacolla before walking on to the Cathedral. In Santiago, you'll collect your last stamp in your passport at the Diocesan office to obtain your Compostela/Certificate of Pilgrimage. 19km. Celebration dinner in the heart of old Santiago. Overnight: historic city center hotel—B D

Sunday
SANTIAGO
This morning join your guide on a walk through history in this UNESCO World Heritage town. Begin at the Cathedral, and continue through the city's medieval streets to explore this Baroque treasure house. Join the noon Pilgrim's Mass, if you wish, and enjoy a free afternoon and evening to explore on your own. Overnight: as above—B

Monday
SANTIAGO • COAST • SANTIAGO
The Atlantic ocean is just outside the city. See the amazing labyrinth stones of the Celtic priests, an ancient Celtic fort, and some of the historic granite built villages of the Galician coast. Afternoon at the beach--time to relax in the sun and swim before returning to Santiago early evening. Farewell dinner. Overnight: as above—B D
Tuesday
SANTIAGO USA
The tour ends after breakfast.—B

INCLUDED:
• Hotels based on double occupancy, with breakfast
• Breakfasts & dinners with wine
• English speaking guide & sag wagon support, including snacks
• Entrances per itinerary
• Transfers Madrid-León & Santiago-coast
• Pre trip documents including walking maps

PRICE:
• Upon request
• Suject to date
• Number in group

Contact us: available anytime for 6 or more in a preformed group.
Saranjan's friend Luis 2010 Reports from the Camino:
Part 2 Part 3 Part 4 Part 5 Part 6 Part 7 Part 8 Part 9
Part 1
Hola ,and this year I must add Bonjour, Familia and Amigos:
On August 21st, a group of friends will be leaving for another Pilgrimage, this time for 7 weeks in France and Spain. Two of us are from Seattle ( Alan Hergert and me), 1 from Wash DC (Kevin Conley) and 1 from Atlanta (Steve Whipple). As most of you know, in 2005 we did a 500 mile trek starting in SW France and in 2008 we did a 375 miler starting in Salamanca, Spain, both ending in Santiago de Compostela, (NW Spain).
This year, after a 2 day wine tour in the Bordeaux/St Emilion region, we will start by walking a portion of a spectacular 200 mile French route called Voies de Littorale, starting just SW of Bordeaux in the village of Biganos, heading south down the French west coast to the Spanish border. Once in San Sebastian, Spain, Kevin and Steve will head back to the USA on September4th and Alan and I will continue west, following most of the Spanish north coast and ending in Santiago. This route is called Camino del Norte. In total we will walk about 700 miles, averaging 16 miles per day.
On September 13th, Karen and Ana (Alans wife) will join us in Santander to walk the remaining 375 miles or so to Santiago. September 14th is Ana's 50th birthday and some of our relatives from the US will be joining us to help Ana celebrate this major milestone.
As I did in 2005 and 2008, I plan on sending weekly updates of our adventure, including highlights as well as low lights, stay tuned !! A little history, trivia and a lot of food and wine stories. If you don't want to be included in the weekly emails just let me know.
We will miss our families and friends but look forward to our return on October 13th. Below is a link with a lot of pictures and details on the Spain segment of the Pilgrimage . In addition, for those of you on FaceBook, you can follow daily updates by searching Camino del Norte- Santiago Compostela 2010 on your FaceBook page. Also attached is a picture of one of our training hikes as well as a map of the Camino del Norte.
Until we arrive in Francia, Adios and Au Revoir
Peregrino Luis
http://www.santiago-compostela.net/cdn/en_cdn01.html
Bon jour, after almost 2 years of planning and anticipation, the big day arrived. On Friday night, we had a farewell and final planning dinner at Alan and Anas home, with appropriate continued training of fine food and wine. On Saturday morning, I visited with the Wades/Razores and 5 grand kids and Karen took me to the airport to begin the journey. They, along with friends and family will all be missed very much.
August 21/22
The Air France flight to Paris was very nice but Lufthansa and Singapore are still the best airlines in my view. Having said that, the Rully 2006 Joseph Drouhin Bourgone Blanc was very tasty and then enjoyed a 6-hour sleep on their fully reclining beds. The only issue was that French security took my hiking pole as a dangerous tool, it had made it through USA security without issue, go figure.

Met Alan, Kevin and Steve at the Bordeaux airport, rented a car and checked in at our hotel in St Emilion, a beautiful hill top village just east of Bordeaux. Wine heaven. After a few bieres (beers) on the plaza, we went to a wine shop to experience a St Emilion Figeac, a Premier Gran Cru with foie gras. Then dinner where we ordered "pave," pavo means turkey in Spanish so I assured the boys we were having turkey of some sort, well pave means a filet/steak so we ended up with mystery meat of some sort but it was good. We were all very tired from the overnight flight and almost fell asleep in our pave.
August 23
We were picked up at 8 am by Henri, our very knowledgeable wine guide for the day. Our first stop was Le Mission Haut Brion, the sister winery to Chateau Haut Brion, the famous first growth Bordeaux winery. After a very detailed tour by Laticia, we got to taste both wineries 2004 vintage; the Chateau won hands down, but at $700 a bottle it was expected. We then drove by numerous other wineries and the Bordeaux countryside. For lunch we went to a local Fruits de Mare (seafood) house. We enjoyed a Lamproie, a white fish from the Girone River cooked in St Emilion wine with leaks, with their house wine. After lunch we had a tour of Chateau d' Yquem, the most famous and expensive sauterne wine in the world, currently at about $1,000 bottle. I am guessing our tasting of the 2004 was about $50 each. We tried to get seconds but no go. We then drove by Figeac, Petrus and Cheval Blanc among others, ending at a local shop where we tasted 10 different local varieties. We entertained our hosts by singing the only French song we know, Chevalier de la Table Ronde, a drinking song of course. A10 Star day.

The dinner highlights were foie gras, sea bass and Brittany huitres (oysters) accompanied by a Sancerre and 2 St Emilion Premier Gran Cru's. When in Rome drink and eat like the Romans.

The French section of our route is called The Voie Littorale from the mouth of the Gironde River to the Spanish border at Irun, but we started in Biganos. The 375 Km route follows the French west coast and was the 5th most popular pilgrim route in the 12th century, very isolated today.
August 24
Another beautiful sunny day. We dropped the car at the airport and cabbed it to our starting point, the town of Biganos, just SW of Bordeaux. We thought we could have breakfast before walking but before we knew it we were in the forest and no sign of civilization or food and we had 25Kms before our destination of Sanguinet. Luckily we had a couple of power bars but we started to run low on water, actually we ran out of water and it was HOT, in the low 90s. What a start to our 700-mile trek. But then the 1st Camino miracle occurred. We were walking by what appeared to be a summer home and we noticed that a family was having lunch in their patio. In our tarzan French, we asked them if we could have some l'eau (water). Before we knew it, they were treating us to wine, home grown tomatoes, local formages and home made preserves, with fresh French baguettes of course. What a nice family, they were from Bordeaux on their last days of their 4-week mandatory vacation (see pic). After an hour plus visit, we continued to Sanguinet, a lakeside resort village. We tried to check into our hotel but they didn't open till 6 o'clock, a preview of things to come. It was a total dump. After a quick shower in the quasi shower, we went to the local barbershop for our traditional Camino buzz cuts (see pic). This year Esteban went for a 0, Luis and Alberto a 1 and Big Daddy a 3, he claims he has an important meeting when he returns. Anyone remember the movie "One Flew Over the Cuckoos' Nest"?
We had a very nice dinner at the local restaurant, the highlights being Cannard Confit and Coquille St Jacques with roasted apples. Wine was their local rose. During dinner we met a very nice family from Paris. The negative perception of unfriendly French toward Americans is fading fast.

August 25
After a quick petit dejunea, we got an early start to avoid the expected mid day heat.

Another sunny and warm day, a very different experience so far from our wet and cold 2008 Camino. However, the singing by the Camino boys quickly reappeared as in past years. Today's walk took us through flat tall pine and cornfields. But again, no villages until our destination, but since we had a fairly short 25 Km day, we were finished by lunchtime. After checking into our hotel on Etang de Biscarrosse lake near the town of Parentis-en-Borne, we went swimming, a very refreshing break. Then the 1st nap. For dinner we went to a local pizzeria for varied pizza, moules frite (mussels with french fries) and house vin.

August 26
Another hot day expected for our 30 Km trek from Parentis de Born to Mimizan so we were on the road by 7 am. So far the terrain has been totally flat, but occasionally we are walking on deep sand, a challenge, but today most of our walk was on a very nice bike path through pine forests and bordering a few lakes (see pic). We have yet to see another single pilgrim!! We later found out that only 10 pilgrims have gone through Mimizan in 2010, and we are the first Americans. What are we doing here?
Our hotel in Mimizan is very nice with a cold pool where we tried to soak our tired bodies away. After showers we visited the church of St Mary, completed in the 13th century. The remains have retained its medival art vivid colors and contains one of the oldest French representations of Saint Jacques dressed as a pilgrim. As we went to dinner there was a lot of activity going on, it was their annual village "feria" (fiesta), a 4 day affair. The whole town was out partying with 5-6 music stages going simultaneously and rows of bodegas and food kiosks offering local drinks and food. Not to mention the opening parade. But for dinner we went to the local restaurant for Cannard de Confit and Entrecot, supplemented by their local rose, becoming one of our favorites given the warm weather. They partied all night long and they have 3 more full days to go! We were in bed by 10 pm but sleeping was difficult with all the street activities.
August 27
Today's walk took us from Mimizan to Lit et Mix, a 30 Km stage, except we made a few wrong turns and it ended up closer to 33 Kms. Having said that, the trail is very well marked. We just need to pay better attention. Probably the best day so far, still sunny, a few hills and great vistas. Although we had a petit dejeuner before we left, our first stop in Bias, we convinced the cafes cook to make us oeuf et bacon (eggs and bacon), they liked us a lot and also treated us to their local formages and fruit. Our 1st two-breakfast day! They also made us Jamon sandwiches to go since there were no other villages to our destination. The last few Kms were along the Courant de Contis River, with occasional kayakers paddling by the swift moving stream. Our hotel, Club Atlantic, is a low-end resort type of time-share with, again, very small but clean rooms, but a nice cold pool. We toured the small village and then had dinner at the hotel. They made an incredible agneau (lamb) on the spit, with roasted local vegetables and their own rose wine. We got to know Stan the owner, chef and entertainer very well. We sang our Table de Ronde to please the mostly French crowd.
August 28
Another beautiful day but cooler for our walk to Moliet-et-Mas, an expected 32 Km day. NOT!! The only place for lunch was a small sea village 1.5 Km off the route where we enjoyed Moules Roquefort. In addition, we missed a few turns adding another 2.5 Kms for a total of 36 Kms, or about 22 miles, a brutal day. The last 5 Kms were very difficult specially since I got my first blister in 3 Caminos, a doozie one on my left little toe, OUCH. On the way we visited The Chapelle de Maa, a small church from the time of the Knights Templar. Some of the pain was forgotten by a warm welcome from Sizie, the baker at the local pattisserie on the edge of town. She gave us free pastries and made arrangements for a taxi to take us to our hotel at the plage (beach), another 4 Kms off the route. No way we were walking another step! Moliet-et-Mas is a very nice beach resort with its streets full of tourists enjoying the last day of their European "August" vacation. We had a similar experience to Seaside, Oregon. We didn't get to the hotel till 7 pm and after a quick shower went to the hotel restaurant, we weren't walking anywhere, for the best cannard confit of the trip, a Bordeaux and a Cote de Gascone rose to help ease the pains. Then straight to bed.
August 29
We had made arrangements with the taxi to pick us up at 7 am, which came very quickly, for a drop off at the same patisserie for our daily petit dejeuner before another long day in route to Capbreton, a 31Km day turned 33 Kms by a few wrong turns again. The pattisserie comped our meal again; apparently they do this for pilgrims, a very nice gesture. The early morning was cold, in the mid 40s, fall is arriving. The first half of the route is a nice stroll through tall pine forests with occassional rolling hills through deep sand paths. Basically, from Bordeaux south the whole area is a huge sand dune. Villages are now every few Kms to break up the still sunny walk day. The last part of the route took us right through the fashionable resorts of Seignosse-lePenon, Hossegor and finally to our destination of Capbreton. As we walked by the promenades along the hotels, the beaches were packed with vacationers enjoying the last days of summer. The European economy must have been hit very hard; many of the locals can only afford half a bathing suit. Just saying.
Our hotel was right on the beach and the nicest so far; a good thing since tomorrow will be a rest day and long naps will be taken. We went swimming in the cool but pleasant Atlantic followed by a Fruits de Mare feast as we watched the sunset. We are now in the Pays Vasque "French Basque Region" so for dinner we went to a Spanish restaurant for a Paella, actually very good, where we had a blind wine tasting of French and Spanish rose. They were both very good. The nights are now getting cool so long sleeve/fleeces are needed.
The Camino routines have kicked in and the memories of past Caminos are resurfacing. Long hard days, hitting the "wall" around 12 miles then its 1 step at a time, but rewarding once completed. So far we have walked about 170 Kms, 17 miles per day. We had forgotten the pains and rewards, but it's nice to be back.
As most of you know, I am a AAA personality. So although I know I can't totally change my ways, my goal in this Camino, in addition to sharing part of it with Karen and my good buds, is to SLOWDOWN. And smell the roses. A challenge for me, but starting to make progress. My nickname is now Louie " Lentemente", and the boys have even written some words to the tune of The Beatles, "All You Need is Love" to remind me if I start to stray from my goal. Time well tell how I do but a good goal.
Until next week where I expect to send the next update from San Sebastian, Spain.
Au revoir,
Louie Lentemente
http://www.santiago-compostela.net/cdn/en_cdn01.html
From Capbreton, France
This stage takes us from Capbreton, France to San Sebastian, Spain
August 30th
A very needed rest day was enjoyed in Capbreton, the ancient fishing port now a posh resort town adjacent to Hossegor. Ok, we admit it; we are walking and sweating like the old Peregrinos but certainly not suffering on the lodging, food or drink experience. We had a very nice hotel right on the beach and had the luxury of sleeping in till 8 am. After a leisure breakfast, we headed to the beach for sun and swimming in the cool waters as we were blessed with another sunny and warm day. What a difference from the 2008 Camino when rain was the daily challenge.
After a nice lunch where we had our first Croque Monsieur, we took long naps, did our thing at the Internet cafe and back to the beach. The beaches are basically empty now that the "August" vacationers have gone back to work, a huge difference from yesterdays crowds.
Dinner was pretty low key although our walking buddy Steve is now into double espressos and Baileys after dinner, we call him the very alert drunk!!
August 31 th
Yesterdays rest day totally recharged our batteries and made our 27Km trip to Bayonne very enjoyable, especially since my blister is not as painful, but still there.
The walk took us through various beaches where you could still see dilapidated remains of military hospitals, pillboxes and bunkers. The weather.... Still sunny and warm, but not hot.
Bayonne is a city of about 46,000 situated on the confluence of the Adour and Nieve rivers (see pic), making the old walled town even that more beautiful. For the rest of the trip, with a few exceptions we no longer have reserved accommodations. As we were touring the town while looking for a hotel, Alan remembered that my great grandfathers grandmother ( not sure what that makes me to her) was born in Bayonne and from his genealogy research had the address where she lived, 48 Port Nouf. We found a 4 room little Inn at 44 Port Nouf, and that's where we stayed! Their home is now a retail shop.
We went to the Cathedral of St Marie (see pic), built between the 13th and 17th to get our pilgrim passport stamped. There we met Julian, the church sexton. Before we knew it, he was giving us a 1 1/2 hr private tour of the church, including taking us to the top of the spires, the 2,600 ton bells and the Bishops home. Julian was Spanish born so understanding the detailed explanations was a welcomed surprise. Pretty cool, something that just happens, you can't buy this type of experience.
For dinner we first went to a Basque tavern for sangria and tapas and then to a local restaurant where we devoured the best meal of the Camino so far. As an appetizer they served us foie gras over a poached egg, main course of baked merluza (a local white fish) with steamed mussles followed by assorted formages. Wines were a 2004 Chateau Meillac and a 2005 Esprit de Chevalier. A great ending to an awesome day.
September 1 th
It's getting "boring" but another sunny day. Today's 29Km trek to St Jean-de-Luz starts our induction to the hills, a different world from the flat forest and rolling ocean trails of the last few days, good training for what's to come. We are now in classic Basque country, white houses, churches with tiered wooden galleries, men in black berets, sheep and cows with bells around their necks and the jagged Pyrenees in the backdrop.
For lunch we stopped at the small but attractive Basque hill top resort of Bidart. We each are starting to watch our weight so we had salads (see pic) !
As we got closer to Luz, we walked by huge Basque villas, similar to what you would find in Montesito near Santa Barbara. There is wealth here!
There was a music festival going on in Luz so finding lodging was a challenge, but the local tourist office was very helpful and found us a couple of rooms in the outskirts of town.
St- Jean-de-Luz (see pic) is a classical Basque old port town now turned high-end shoppers paradise. Good thing about being a pilgrim is that you don't buy anything since you have to carry it (this is meant for Ana and Karen).
For dinner we went to a Spanish restaurant, we had had enough canard confit and foie gras by now, but surprise....Alan ordered a house specialty of sauted sepas (calamari) topped with foie gras that was to die for. Wines were a French rose and a Spanish Rioja.

On the walk back to a hotel, the town drunk heard us speaking English and he broke out into a loud and off tune of Glory Glory Hallelujah ...Steve joined in to drown out the drunk to the delight of the clapping crowds on the streets cafes.
September 2nd
Although we were expecting a long (37Km) day so we could enjoy 2 days in San Sebastian before Steve and Kevin leave us, we had no idea what was ahead of us.
Leaving Luz, you quickly climb various colinas with great views of the sea as you approach Hendaye, the last French town and cross the Pont Saint Jacques over the Bidassoa River into Irun, the first town in Spain. Viva Espana!
We had already walked 15 Kms but magically I got pep in my step ad we crossed into my second homeland.
We didn't leave Irun until 1:30 and we still had 22 Kms to San Sebastian.
We could no longer see the Pyrenees, cause we were in them. The trail steeply climbed to the sanctuary of Guadalupe, and I mean climb. We now remember that the Spanish have never been introduced to trail switchbacks. We rested at the top and had one of our mandatory afternoon snacks, a multi colored Popsicles to quench the thirst. Luckily today was partly cloudy and not as hot. Our plan was to buy a guidebook in San Sebastian for the balance of our journey so at this time were traveling blind, solely by the very well marked Camino signs in Spain. Although I have never done any technical climbing, I have done a lot of steep hikes in my life. What we did in the next hour or so was the steepest and toughest climb ever. It was a scramble, straight up, with no end insight. The Pyrenees took it out of us, but we did it. The climb continued at a more moderate rate, now walking through grassy mountain fields (see pics) with scattered cow, horse and sheep herds. With the blue Atlantic ocean below us, spectacular views.
When we got to the third "top", there ended up being 4 of them, there was a historic war site, with a bus tour of French cheering us on. Of course, we quickly start singing Le Table Ronde song and they all joined in, the Sound of Music French style, in Espana. Who needs ambassadors when you have the singing Camino boys?
As we started our descent, we were now basically out of water and had no idea where the next fountain would be, the next Camino miracle occurred. We ran into 4 Spanish civil guards guarding the small mountain road. We were certain we were going to be passport checked. Instead, we engaged in a friendly chat and they filled our water bottles, a good thing since we still ended up with another 3 hours of mountain hiking. Bottom line they saved us!! Viva Espana.
The rest of the walk was a steep track until we hit the small town of San Juan, where you take a small boat across to the San Sebastian suburb of San Pedro for the last 5 Kms to town. I must confess that Big Daddy and I took a bus for the last few blocks, the tank was totally empty but after all the extra Kms we had hiked there was no guilt. A very hard long but rewarding day, a sense of accomplishment. One step at a time.
We almost didn't go out for dinner but it would be a grave sin to be in San Sebastian and not have tapas, so we did.
Sept 3 AM
A day off and do we ever needed after yesterdays adventure. A late desayuno (breakfast), bought our Camino del Norte guide for the rest of our route, drafted parts of this update, a tapas lunch with a caña (a draft beer) and the afternoon at the Playa de Concha, still packed with sunbathers. The Spanish economy must have been hit even harder than the French since more people here cant afford full bathing suits.
As we left the French portion of our journey and have now walked about 263 Kms, here are a few observations:
Best Wine - St Emilion Figeac
Best Discovered Wine- French rose
Most Wine Drank in One Day - 2.5 bot
Favorite Dish - Canard de Confit
Best Dish - Foie Gras over Poached Egg
Best Hotel - Moliets-et-Maa Beach
Favorite Village - St Emilion
Favorite Large Town - Bayonne
Coolest Town - St Jean de Luz
Worst Day - Blister Day
Toughest Day - St Jean de Luz - San Sebastian
Overall - Priceless
Singing Steve and Big Daddy Kevin leave tomorrow and they will be missed. What will the next 10 walking days bring us before Ana and Karen come? I am making progress but still working on "slowing it down"
Until next time,
Adios from The beach in San Sebastian
Luis el Despacio (the slow one)
This stage takes us from San Sebastian to Lazama, just outside Bilbao
Sept 3 (PM)
A great afternoon at La Concha beach, it was packed, just like the streets, barsand restaurants in San Sebastian. Can't see the economic problems about Spain you hear and read about. The place is thriving.
For dinner we headed to Old Town, El Casco Viejo, where it is known for the best tapas bars in the world. We proved them right as we ate and drank (beers and sangria) ourselves silly from bar to bar. Ending up with a celebratory Cohiba Cuban cigar to send our friends Steve and Kevin back to USA reality tomorrow.

September 4
Our trip to Zarautz is only 24 Kms, seems like nothing after some of our marathon days of the past, so we had a leisure breakfast with the boys and departed San Sebastian around 10:45 am. Even though we had about 2,000 feet of climbing elevation, the trek went pretty fast as our day of rest helped heal our sore bodies, we also started to meet pilgrims on the road.

The vistas were awesome as you climbed up and down the mountains and valleys overlooking the Cantabrian Sea of the Spanish north coast. The Spanish section is so well marked that we really don't need the guide book we purchased, but it is very helpful in explaining the numerous sights you see along the way..... and just in case we get lost again.

During our walk we met David, a 35 year old from Pamplona who is totally hooked on the Camino. He walked the 500 mile Camino Frances earlier this year and is now doing as many different segments of the Norte as he can the rest of the year. His plan is to buy and run an Albergue on the Camino Frances.

For lunch we stopped at the beautiful hill/sea town of Orio (see pic 2) with it's baroque Iglesia (church) of San Nicolas de Bari as it's jewel center piece within the steep Casco Viejo. The rest of the trail climbed out of Orio and then dropped steeply into Zarautz, another major Spanish resort town, where our past "luxurious" pilgrim lifestyle quickly changed. Zarautz was holding an annual World Surfing Championship and the town was humming, but totally booked so our only lodging option was the local Alberge (see pic 7), a major change from the past 2 weeks, but more the real Camino. It actually wasn't bad. We got to watch world-class surfing in the PM and enjoyed a nice dinner by the beach promenade with their local wine, Txakoli, pronounced "chocoli", a fizzy but refreshing white wine to go with another sunny and warm day. The Albergue has mandatory lights out by 10 pm so an early night.

This next phase of the Camino will be just as fun as what we experienced with Kevin and Steve but will also be very different.The dynamics totally change when there are only 2 of us, it's actually easier to interact with other peregrinos and there are many of them now. So it was a good thing the boys were with us during the totally desserted French route, we entertained ourselves and had a blast.

September 5
Our sunny weather continues but there are clouds on the horizon, and possible lluvia( rain). Today's trek is another reasonable 22.5 Kms but major elevation is expected. And the mountains and steep climbs didn't spoil our expectations, up and down all day, including a glass elevator ride of about 200 vertical feet into Deba, another resort town on the Mar Cantabrico, the new and improved modern Camino.

Our first stop was in the port of Getaria (see pic 3), the home town of Sebastian Elkano who traveled with Magellan on the first known sailing around the world between 1519-1522 There is a monument to memorialize the feat and in memory of all the sailors lost during the trip.
Then the climbing really started, with 4 roller coaster rides of about 600 feet in elevation gain each, and loss. Tough on the knees but our hiking pole really helps. On the positive side, incredible views of the rugged Cantabric coast.

We fared much better on the accommodations front in Deba. We found a brand new totally remodeled Pension 2 blocks from the beach, and they even did our laundry. The Pension was nicer than most 3 star hotels, 67euros including breakfast. The beach was packed, but not as nice as the previous ones, and the water felt colder, but great on the tired body.

We are starting to meet a lot of pilgrims now, after a nice nap we went to the Plaza Major and ran into some of the pilgrims we had met during today's walk. Hans from Holland, Josep and Greta from Cataluna, Spain, Janus from Germany and 2 French students (see pic 4). We had some Txakoli and then a pilgrim's dinner for 9 euros (flank steak, french fries and fried eggs) with the house Tinto (redwine). Not the best meal but we really enjoyed the Pilgrim experience andsharing Camino stories.

September 6
The sleep at the Pension was great, except for the occasional train flying by in the near by tracks. After a quick breakfast, the highlight being fresh peach juice, we started the roller coaster hike, again, on our way to Markina, about a 23Km stage. The toughest segment being a 1,200 ft steep climb up Monte Arno. The landscape still includes pines and now eucalyptus trees with herds of cows, sheep and horses grazing in the green hilly pastures, with an occasional farmer.. Even some of the horses have bells around their necks, making music as we stroll. One of our past times is to eat wild moras (blackberries) to fill our hunger till the next meal or snack.

The Basque language is called Euskera and is the primary language of the region.In the countryside it's the only language on signage and locals and in the towns it is shared with Spanish. The Basque people have been extremely nice and welcome us everywhere we go. The cultural and political differences are extreme with the rest of Spain and they are not shy in sharing them with you. For example, you do not see a Spanish flag flying anywhere, but you see the green and red Basque flag everywhere. When we talk to the Basque about Spain's World Cup victory, they are totally indifferent.
Markina is a town of about 4,200 a few kms from the sea, but we stayed in a Casa Rural about .5 Km out of town. Like most Spanish pueblos, it has it's Plaza Major in the middle of the old town, with it's cathedral near by. As you come in or out of pueblos you find the towns cemetery.
For dinner we went to a restaurant with Manus, an Irish pilgrim and later joined by 2 French couples( yes Karen and Ana there are 2 other couples on the Camino and they are older than you !!), Joaquin and Chantel from Brittany and Donald from Quebec. The pilgrim menu was green peas and potato soup, red peppers stuffed with cod and natilla (custard) with their local tinto. We had heard that one of Markinas specialty was Bacalao al Pil Pil (cod in a green sauce) so we ordered an extra side dish. The luxury of walking lots...... you can drink and eat lots.

September 7
The dry spell ended as we were awakened by a massive down pour, but by the time today's 25 Km walk to Gernika started the skies cleared and the sun returned. Our poncho, gortex shell and fleece are still at the bottom of the pack!

The rain made parts of the trail extremely dangerous. More than once you heard "man down" in various languages as bodies went flying on the slick red clay on the steep descends. Luckily, we only had close calls. Today's Camino took us through the small village of Bolivar, named after the ancestors of Simon Bolivar, the famous liberator of many South American countries, their George Washington.

As we passed by the still active monastery Zenartuza, there were ongoing vespers by 6 priests. Alan stayed for the whole service and I walked ahead with a group of Spanish students from Cataluña Huge Barcelona futbol fans. The trail into Gernika was steep but the hot sun had dried most of the slick red slippery clay, making it tolerable. Gernika, founded in 1355 was pretty much leveled by German bombings during the Spanish civil war. The only remaining older structures were 2 churches on the surrounding hills. A lot of history here, not all good.

We stayed in the Gernika Pension where we had our first shared bathroom, clean, but crummy beds. In the afternoon we toured Gernika (more walking!) where the highlight was the Casa de Juntas de Gernika (The Assembly House), the meeting place for the regions people still used today.

For dinner we went to the Gernika Restaurant right below the Pension for one of the top 3 meals, and wine, of the Camino. We had 3 different types of salads; the best being one topped with anchoas (anchovies) and smoked salmon. The main dish was Chipirones en Su Tinta (stuffed squid in it's own black ink) and a great Rioja, actually 2 bottles, 2000 Vina Ardanaz Reserva Special, our favorite wine so far after the Figeac in St Emilion, but at 1/5th the price For dinner we were joined by Helena and Yvette, sisters from from Avignon,France and Alfred from Germany. After dinner Alan got the group going with his French songs, quickly turned into The Beatles Yellow Submarine, among others. A good time was had, followed by our mandatory night cap, Orujo de Hierba, a great Spanish digestive.

September 8
Another downpour during the night but sunny and dry by 7 am, but cooler, as we started our walk to Lezama. We quickly joined and walked all the way with our pilgrim friends, we all try to help translate Camino stories into many languages and makes the pains of the Camino more tolerable. By know we have met pilgrims from Spain, France, Germany, Italy, Holland, Ireland, Belgium, New Zealand, Canada, Peru... but we are the only Americans so far.

We weren't sure of possible fuel stops for today so we bought some bread as a precaution. During our first rest stop, the Spanish walkers shared their Manchego cheese, bread and chocolate cookies with us and we reciprocated by buying them a beer and pinchos (tapas) at an unexpected but welcomed stop along the way. We then gave them our bread since most of them don't eat their meals at restaurants, they were so appreciative, it was like they had won the lottery....little things can make a difference. Camino experiences at their best.

We still had a lot of elevation gain today but more tolerable.... Could we be getting used to it? In the outskirts of Lezama we found a very nice Casa Rural where the owner agreed to drive us into town for dinner. We also found out Lezama is where Bilbaos futbol team, Atletico Bilbao, has it's practice facilities.

At dinner time they were not able to drive us so we took the train back to Lezama, a new Camino experience, and had a farewell dinner with Josep, Greta, Alejandro and Janus who were ending their 2010 Camino experience in Bilbao the next day. For dinner we had Chuleton con Papas Fritas y Pimientos Rojos (rib eye steak, French fries and roasted red peppers), with Tinto de la casa.

Tomorrow a short walk to Bilbao, home of my Great-great Grandfather Federico Arias Scala. Prior to their departure, Josep gave us a very nice compliment he said, en Español...."I always thought Americans were bad people, thats what we are shown on local tv, I have changed my mind getting to know the 2 of you over the last few days and really want to meet more Americans and come visit your country sometime".
Maybe our Camino can help improve understanding of our diverse cultures and life styles.

Next Monday Ana and Karen will join us near Santander, until then
Luis el Despacio...still working on it
This Stage takes us from Lazama to Santander
September 9th
As we were getting ready, Alan was in the common bathroom doing whatever he does in the morning, a little bird flew into our room. When he came back and saw it, he totally freaked out and started screaming. Apparently, he is freaked out by birds, specially in close quarters. He wouldn't come in till the bird left, what a woozy, but I still love my best bud.

Our rainless streak came to a halt as it started to sprinkle as we started our short 12 Km trek to Bilbao. Ponchos out but after about 15 minutes of light rain the sun returned and another beautiful day. The steep hills didn't disappoint again but by 10:30 we were in a very nice Pension in old town Bilbao about 2 blocks from the Santiago Cathedral. After a quick shower, we toured the old town and planned out the rest of the day. Our first stop was la Iglesia of Nicolas de Bari where my Great great grandfather wad baptized and married to see if we could look at church records and further explore the family history. All records prior to 1900 are now at a regional archives do no luck. We then went to the Bilbao Biblioteca (library) to see what we could find, no records there but one of the librarians was very interested in our adventure and spent about 30 minutes researching the local records on the internet and walla.... He found the extended family, Alan our family historian and genealogist was ecstatic. We tried to have an early lunch but the restaurants don't open till 1:30 ( and 9:30 for dinner) , we were so hungry by then that we ended up ordering a 1 Kg (about 2.2 lbs) Chuleton, french fries and a nice bottle of Rioja to prep us for a nice pm power nap. Mission accomplished.

In the afternoon, we went to an Internet shop to get caught up, get our Fantasy Football teams ready for week 1 and final my last Camino update. We then toured other parts of Bilbao, including the San Vicente church in the old Republic of Abando neighborhood where my Great great grandfather was born in 1840. We then ended the afternoon at the famous Guggenheim museum (see pic) where they were featuring works of art by Henri Rousseau, Robert Rauschennberg (pretty weird "art" if you asked me) and Anish Kapoor, from Bombay, India. Even I, who as most of you know am not into the arts, was impressed by Kapoors work. Although way out there, his explorations of abstract forms and concepts of the void play with your mind, including mine. The walk back as the sun was setting along the Rio Bilbao was spectacular. What wasn't fine were my legs, since we probably added another 5-6 miles during the Bilbao sightseeing.

For dinner, we went to one of the numerous Basque taverns and had fresh white asparagus, bacalao al pil pil and natilla for dessert. The natilla was almost as good as my grandmas used to be, a good memory.

Bilbao is a great city and I strongly recommend a visit, I will definitely be back.

September 10th
Cool morning but sunny day for another fairly short 20 Km day walk to Portugalete on the Ria del Nervion. In Spain, they call rivers "ria", instead of rio when they empty into the ocean, a bit of local trivia. We are now back to the Cantabrian sea and it's clean fresh air.
Most of today's Camino is urban with the exception of 2 steep climbs, a medieval stone road and through a few rural farm lands. Having said that, it's a great way to experience the cities neighborhoods and it's people. Today was the first day of school in Bilbao and there were many kids boarding what was probably their first school bus ride to their parents delight. Reminded me how much I miss Austin, Lucas, Olivia, Lilie, Logan..... and Natalie who should be arriving into our world within days.
Portugalete, founded in 1322 is a very pictures town of about 44,000, some of it modern but it's old town is very well kept and borders the ria. Its center piece is the basilica de Santa Maria, a Gothic Renascence structure from the XV century. One of it's historic highlights is actually our Pension Santa Maria (see pic), and old infirmary. Crossing the ria is a suspension cable car to take people and 6 cars across to the sister village of La Arena.

We tried to have dinner but the earliest restaurant opened at 9:30, so we went and had an Albarino wine and aceitunas (olives) to kill some time. When we got to the restaurant we were the only ones there, when we left at 11 we were still the only ones there!! Friday nights locals don't start arriving till after 11.

Regardless, we had a great meal and talked Atletico Bilbao futbol with the waiter all night. For dinner black rice with calamari, grilled rape (anglerfish) with potatoes Basque style, roasted local vegetables, finishing with a home made tarta de manzana ( apple ), with their house Rioja. On the way home stopped for our Orujo digestive.
September 11th
Tough night of sleeping since our room faced the plaza where they partied till 4 am. After climbing out of town, the next 11 Kms of our 28Km day were in a very high-end bike path that climbed some more and then dropped back to the beach, which we hadn't seen for a few days. During the walk we met a local lady that walks the path everyday, rain or shine. As we walked, at a fast pace I must add, she gave us a guided tour of all the sights and everyone she knew along the way, including many of the cows and cats. She was like Karen on Mercer Island, the famous walker. The next 900 meters were actually on the beach, we then climbed to the rocky cliffs above the Cantabrian Sea where we bordered it for another 7 Kms before having to take a major road ( it sucked) into Castro Urdiales, another well situated port town, thriving on the weekend with locals and tourist. What bad economy, every restaurant and bar is packed.

In the evening we watched futbol, a lot of futbol, Barcelona vs Alicante, Real Madrid vs Osesuna and Atletic Bilbao (the local favorite) vs Atletico Madrid. The streets, and bars, were still packed with what seemed mainly locals, and they partied till at least 5 am. We don't know how they do this, and it wasn't just young people.

For dinner we went to a Casa de Mariscos, a seafood house, where we sampled chupitos (grilled small squid), mejillones en salsa de tomate (mussels in tomatoe sauce), anchoas a la plancha ( grilled anchovies ), salpico de mariscos (seafood ceviche) and pimientos verdes ( grilled small green peppers). A Rueda white was the wine choice of the night. We ended up watching the last futbol game at a bar for our nightly Orujo to help us sleep through the noise. I now wear ear plugs most of the nights!

We have now left the Basque country and are now in Cantabria, another of the 12 regions in Espana. A BIG GRACIAS to the Basque people. They treated us like familia and fed us like Kings.
September 12th
There were actually a few partyers in the streets as we left Castro for Laredo, a 29 or 35 Km day depending on the route. I chose the 29, Alan the 35, which was less road and asphalt but much longer. The first 12 Kms we walked together, mainly along the coast with spectacular views, before the Camino routes split.

I finished by 1:35, mainly roadwork but through hilly farmland and small villages. Alan rolled in, actually dragged in around 5:15, tired but full of stories.

We are running into very few pilgrims on the route now. Many had stopped in Bilbao and many of the albergues are now closed so they must walk longer days to get the almost no cost accommodations. However, we have now added Brazil to the pilgrim country count, now 12 different nations, and we are still the only Americans. In a matter if fact we haven't run into a single American, even non-pilgrim, since we started the trek over 3 weeks ago.

After a well-earned nap, we toured the old town and had dinner at a Meson. We had a traditional Castillian cena (dinner). Started with a pitcher of sangria, really good sangria, then morcilla (blood sausage) and chorizo from Burgos. The main course was a Lechado al horno (wood oven roasted baby lamb) topped with a tinto from Ribera del Duero. Then to a bar on the way home for.... You guessed it, Orujo, this time de miel (honey).
September 13th
Today is the big arrival day for Karen and Ana. But before we meet them we are treking about 31 Kms to just outside Santander, and another 3Kms by boat, no bridge across this part of the Camino.

Although a long day, today was one of the most varied and beautiful so far. The first 5 kms along a wide promenade along the beach in Laredo. Then the short boat ride for the start of a 7 km walk along lagoons, then a steep rocky, red clay climb to an awesome cliff over the sea (see pic), but kind of dangerous, you slip, death. Lucky for us totally dry, otherwise not sure we would have done it. After a similar difficult descent, you walk on a beautiful sandy beach (see pic) to the seaside village of Noja. That was as good as it gets. It was sunny and warm and but for the long day ahead, we would have gone swimming. (see pic).

The rest of the walk was through the Cantabrian countryside, from village to village, some just a memory of past glory. Cows grazing, horses romping and farmers working their fields. It all made the long journey tolerable.

Tonight we are staying in a Casa Rural/Agriturismo. They are a network of rehabbed older structures turned into 4-10 room country inns, and home cooking. Around 6 pm Karen and Ana arrived. They had flown to Bilbao, taken a bus to Santander, then a taxi to the Casa. It was a great reunion but they were exhausted. Having said that, they rallied, had some wine, croquets and a plate of local quesos (cheeses) and jamon. Then our cousins Bob and Rose arrived for a celebratory reunion dinner. Some of the dishes were not vert good but the 3 boys enjoyed Manitas de Cerdo (stewed pigs feet). The highlight was Peras al Vino (stewed pears in tinto wine). No Orujo tonight, not sure if they even had it. Note, Karen already got her dog fix, the Casa had a yellow lab just like Winston.
September 14th
This morning routine was a total deviation from our normal process. We let the girls sleep in, and it is also Ana's 50th birthday, so we didn't get started until almost 10 am. A fairly short day into Santander, with another Camino approved 5 Km boat ride across the Santander Bay (see pic), then another 2 Kms to the Hotel Real , not Camino approved by any stretch of the imagination. It's a 5 Star old dame with incredible views.

A good start for Karen and Ana but they will soon get to the real Camino experience, longer walking days and well, a lot lower class accomodations, but they will be clean, we hope.

When we checked into The Real, we got a few looks and the porter asked us where our "luggage" was..... Just pointed to the backpacks and away we went, very nice rooms.

Now there were 9 of us at the hotel to celebrate Ana's big day and another small world story, our long time family friends, the Abellos, were also staying at the Real!

For lunch we went to a local seafood restaurant by the beach and devoured a fresh mixed salad and a seafood paella, with a little Albarino wine from Galicia. We spent most of the afternoon catching up with the gang and getting ready for Ana's big bash.

And what a feast it was, Ana had done some research on the best seafood restaurant in Santander and she hit a home run with it. After a little Cava to wish her best wishes and a few toasts, the feast started. Green salad topped with prawns, lobster, mussels and scallops. Then grilled fresh prawns followed by clams in an incredible wine/butter sauce..... Those were the appetizers. Main course was a whole dorado and a local fish called San Pablo, with roasted scallop potatoes in olive oil and garlic sauce. All served family style. The birthday cake was a cheesecake, but made with a Cantabrian white cheese. Wines of the night were Alabariño, and our favorite Rioja; a Muga.We all sampled varied Orujos of honey, cream, hierba and straight, which is basically everclear, not my favorite. A BIG thanks to Alan and Ana for hosting the party, much appreciated. We didn't leave the restaurant till after 1 am but a great night of sleep was had.

We have now walked for 11 days straight. Feeling stronger but also the wear and tear, specially on the feet, with 2 new blisters leading the way, are taking it's toll. The pains offset by the sence of accomplishment. Tomorrows rest day in Santander is a very needed and well earned treat.

Until next time, from Santander,
Luis el Despacio, most of the time
September 15th
Glad today was a rest day, since we slept till 9:45, very needed after last nights late festivities and 11 straight days of walking. Total lazy day with limited walking, trying to get legs ready for second half of the journey , which we won't reach until we are done with tomorrows walk. Still sunny and warm as we enjoyed the hotels outdoor spaces for reading, playing games and just hanging out.
In the evening we went, by taxi, wanted to limit today's walking, to old Santander and visited the cathedral, a few of it's relic structures. Mercedita, my aunts friend from Miami treated us to a copa (glass of wine) in one of Santanders many plazas before a light dinner. Sopa de Gallina (chicken noodle soup) and a green salad. Mission accomplished, a successful rest day.
September 16th
As we said adios to our 5 Estrellas home for the last 2 days, we hopped in a taxi to take us to Puente Arce, the start to our 25 Km day in route to Santillana del Mar, one of the most picture st villages of our journey.

Ok, I, cheated today, had we walked the designated Camino route from the hotel, it would have been a 46km death march, or almost 28 miles. NO way, especially since it was the ladies second walking day, and I was really beat from the last stage of 11 days in a row. Having said that, my purist Camino buddy Alan, would not have it any other way so he walked the 18 Kms the previous days to ensure he had done the "whole" Camino, this even with a bad flu and fever. Hero, martyr or loco....... You decide but kudos to him. Ana and Karen did great and we experienced the good and bad of the Camino today.
The good.... Almost no hills or rain all day, the bad.......the worst scenery for most of the day as we trekked through industrial suburbs and busy roads, not to mention a 4 km gas line, until the last 6 kms when we strolled through easy rolling farmland in the Cantabrian countryside into Santillana. We were starved since we had limited facilities on the route. The first restaurant we saw was an Asador, a grill, where we enjoyed a Menu del Dia, melon with jamon cerrano, Cocido de Montaña ( a mountain stew), entrecôte con papas fritas (steak and french fries), while others had chuletas (ribs). Gulped down with icy sangria and house tinto. Much better than a sleeping pill for the afternoon nap.
An "Ugly American" story developed during our lunch. It was a fairly nice restaurant with it's dining room upstairs. As we dragged our tired dirty bodies, and sweaty backpacks, there was limited space so we leaned them against the wall fairly close to another occupied table. Within a few minutes the nicely dressed couple changed tables. Our feet hurt so bad that we had taken off our shoes under the table, except Luis el Despacio put his dirty boots where they could be seen..... I was told I couldn't be shoeless in the restaurant, the others discretely put theirs on Oh well, as the say..... Stuff happens.

We then checked into the Parador, one of about 100 around Spain. They are government subsidized old castles, hospitals, convents etc that have been converted into luxury hotels. Here we go again, staying in non approved Camino lodging but it sure is nice.

For drinks we went to the Parador patio where, in addition to a purchased glass of wine, we also had a very nice Ribera del Duero tinto that Mercedita had given Ana for her birthday, with mejillones in olive oil. Alan was still not feeling good so Tete, Kiki, Mercedita, Karen, Ana and I went to dinner to El Castillo, a well recommended restaurant for another great Menu del Dia meal. Sopa de Pescado (fish soup) followed by a grilled Dorado and ending with Quajada con Miel, atypical Spanish dessert similar to yogurt with honey, and tinto de la casa, all for 14 euros per person. My aunt Tete had bought a bottle of Orujo labeled "Hijodeputa", which means son of a bitch. Lots of laughs were had by us, the restaurant owner as well as the tables around us. We left our mark again!
September 17th
One nice thing about being a "senior citizen" in Espana, over 55, is that the Paradores give you a special rate and an incredible breakfast buffet. It's similar to a Four Seasons type of brunch. Needless to say, we had a good start to what ended up being a very wet (see pic) but beautiful short 22 Km walk through the now hilly countryside, with tiny villages every few kilometers on our way to Comillas. Highlights included visiting with a local dairy farmer that showed us his milking process and a stop at a cafe where the owners father, a former French 1st division futbol player, now turned entertainer, serenaded Karen and Ana with a traditional Cantabrian song, a pretty special Camino treat.
We finally started to meet pilgrims again. We met walkers from Espana, Belgium and Germany and had interesting conversations most of the day. You get to learna lot about their personal lives, lifestyle as well as their culture.

Our lodging is back to Camino standards with a modest but clean 2 Star Pension, even Karen and Ana approved, after they spent about 45 minutes searching while Alan and I waited in a cafe. That's our deal, we look into the first decent place we see, if they don't like it they get to search all they want but we stay put. We will see how much "searching ie walking " they do after a few long walks in the days to come.
We started touring the town and the girls went shopping, what ever that is on the Camino. In the meantime, Alan and I ran into the Belgium and German pilgrims and started holding Court and displaying our drinking capabilities. A few hours later we went to The Galeon restaurant for dinner. Started of with Rabas (calamari) and croquetas, a fresh ensalada mixta and another Cocido Montanes, this one with cerdo (pork), chorizo, and morcilla (blood sausage), a good ending to a cool and rainy evening, as my rain jacket finally made it's appearance, but the fleece still at the bottom of the pack.
September 18th
One step at a time our journey continues, today a 30 Km rolling walk, with a few steep hills and great views of the sea and the Picos de Europa, a major mountain range south of the Cantabrian sea Alan and Ana decided to sleep in so Karen and I left around 8 am. We met a couple from Denmark and walked with them for a few kms. He is a strawberry and currant farmer and they take 2 month off every year after the harvest. This is their second Camino.

The morning started overcast but quickly turned sunny and mild, in the 70s, a perfect Camino day. We crossed many farms, cornfields, eucalyptus forests and trails lined with chestnut trees. We talked to the locals and they taught us how to peel the chestnuts and eat them raw, a little bitter but not bad. We even crossed a very nice golf course, hit one shot and kept on walking ( see pic)

As previously advertised, Ana went searching for a "quaint" place to stay when we arrived in Unquera. This time even Karen stayed back as we relaxed by the river. Ana hit the jackpot again and found us a really nice apartment fully loaded with 4 Star amenities, including bathrobes, jacuzzi and high end linens, for 100 euros for all 4 of us. She is on a roll. It must have been part of the Asturian magic, as we crossed the rio Deba, we are now in the region of Asturias, where Ana's fathers family is from, she us very excited! If we thought the rooms were a home run the dinner was a grand slam. The El Puerto restaurant, a marisqueria (seafood grill) is owned by the same family that owns the apartments and we got to know the owner. So here was the line up for the Menu de Gustacion. Pate de Sardinas con Pure de Cebolla, Carpaccio de Pulpo (octopus), Mejillones y Navajas (mussels and small razor clams), Albondigas de Merluza y Gambas (hake and prawn) en Salsa Verde, Gambas y Buey de Mar (prawns and crab) con Vegetables, Calamares en su Tinta con Arroz Blanco and to finish off the feast an assortment of Helados de Casa ( home made ice creams) and Arroz con Leche. It sounds like it was a lot, OK it was, but served in small portions ala a tasting menu. Wine was also included and we chose a Blanco de Rueda to go with the seafood. The ending was Orujo, only Alan and me, followed by an awesome sleep by all.

We walk one step at a time and we eat one course at a time, the synergies of the Camino.

September 19th
Our very first steps in Asturias were straight up a very nice slate paved trail to the town of Colmares, where the Archivos Indianos is located. The archives are of the numerous Estates, mainly in Asturias, that were built in the late 1800s by Spaniards returning from Cuba and Mexico, after making their fortunes in the new world. Most of the estates have a large palm tree as a remembrance of the source of their wealth.
Another sunny and warmer day as we roller coasted 28Kms on our way to Llanes, another seaside town. Some road walking today due to construction but the last half was right along the beautiful and rugged Cantabrian coast line, although taking this alternative route added a few more kms, worth it now that it's over as we got to enjoy the scenery but at times it seemed like the trail that never ends.
After our last rest break, the bar tender told us " nada mas tienen 30 minuticos", many here talk in the diminutive, so instead of minutos they say minuticos, 1 1/2 later we rolled into Llanes. That's the Camino playing with your head again, you set expectations and then.......
Ana and Karen hit the lodging jack pot again. We stayed at La Posada del Rey, where in 1517 stayed Carlos I, then the king of Espana, they negotiated a "Peregrino rate" of 50 euros per room ! They are getting as good as our good friend Sharon V in getting great rates and upgrades. Llanes is very nice with, like most towns, it has an old town, including the Gothic church of Santa Maria del Conceyu, started in 1240 and finally completed in 1480. There are now lots and lots of Sidrerias (cider houses) the typical drink of Asturias. It goes down easy so you have to be careful! Even though the sea water is now very cold, Alan and I went to the beach for a quick, and I mean quick, dip to help comfort the sore body parts. Refreshing but very cold.

We then went to the local Sidreria, although we had wine, to watch the Barcelona vs Atletico Madrid match, won by Barcelona 2-1. Dinner, at another Sidreria run by Cubans, was a little different. Seafood pizzas, simple salads with Sidra. We then had our firsts Chocolate con Churros, the chocolate so thick you actually eat it with a spoon!! Yum.

September 20th
Well the days of leaving by 7:30 and getting in by 2 pm seem to be over. Lucky to leave by 9, today it was 9:15 (not all bad, just different) on our 30Km route to Ribadesella (see pic) where we will meet many of Ana's second cousins from her dads side. The weather continues to treat us well with another stellar sunny day and in the mid 70s. Today's walk was long but "relatively easy", mainly flat and good walking surfaces, including green grassy meadows that felt like a cushioned walk, kind of.

For lunch we deviated from our usual bocadillo (sandwich) and we sat down for lunch in a restaurant in the small village of Nueva, where we had a Plato Combinado of fried eggs, french fries and San Jacabo (breaded ham and cheese), and Sangria. Plenty of energy for the last 15kms.
The Don Pepe Hotel, which is owned by one of Ana's cousin is right on the beach with awesome views, and very nice rooms. Its low season now so only 60 euros a night, not bad. Tete, Kiki, Mercedita, Bob and Rose are still traveling in Spain and joined us again for more fun and laughs. Alan and I dipped in the cold Cantabrian sea before holding court and then heading to dinner at El Puente de Pilar, a traditional Asturian restaurant. We were the only ones in the restaurant, indication of the low season so we received great service and even better meal. Croquetas, Cebollas Rellenas de Bacalao (onions stuffed with cod), Chorizo Casero and then Bonito with sauted onions, green and red peppers. We then all shared desserts, the winner being Tocino del Cielo, a flan like, but denser... Lots of eggs and sugar. Tomorrow is our next rest day, and do we need it, not to mention the girls, and Alan, after 16 straight days.

We are now over half way through our journey, the girls have walked 6 days, Alan and me 26/25 days, and the Camino routine is in full force. Backpacks feel lighter, (but see news flash below) legs stronger and appetites and body hurts and pains roaring. Not sure if the ladies still get why we do this, but time will tell.

Until next week, from Ribadesella,

Luis not so much Despacio lately, but still trying to work on it.

NEWS FLASH.....There have been very unusual sightings on the Camino, never seen before!!. A 2 lb bag of Granola sourced in Madison Park, WA and a large purse full of cosmetics sourced in Mercer Island inside backpacks being carried by 2 good looking babes. The locals don't know what to think. Can you imagine? Just Saying
This stage takes us from Ribadesella to Luarca
September 21
Ribadesella is a great place to take a day off, especially where our hotel is situated with great sea views on another stellar day. The goal on these treasured days is to do as little as possible, especially on the activity and walking fronts. After a leisurely breakfast at the hotel, we started meeting some of Ana'sfamilia. Many are blond and blue eyes!! And very reserved so we had to be on our best behavior, whatever that is. My aunt Tete had a car, a tiny Mercedes A Class, that seats 5 at best, however, for driving to El Carmen, the small village up the hill where their old farm house (has not been lived in for over 70 years) is located, we stuffed 7 of us in the tiny A Class, including me in the hatchback. It's a beautiful piece of property with fruit trees, rolling pastures and a few cows gracing.

After a light lunch in El Carmen, we headed back for a long rest day nap before heading into old Rivadesella across the river for sidra and then dinner. We are smack in the middle of sidra country and pouring the sidra from way up high into wide mouthed glasses is an art in itself. The tradition is also that in big groups, and we had 11 of us now, you only have 3 glasses and as each glass is poured, a person downs it, or dumps what's left from the small pour on the floor with a very specific wrist twist, and then passes it to the next person. Well my familia didn't like this long time tradition of sharing glasses and they got into an argument with the sidra master. Well, my familia, or to clarify, a few of the familia that will go unnamed, lost the argument and the glass sharing tradition is still intact in Asturias. When in Rome, drink like the Romans, or you pay the price.

Ana had a recommendation for dinner and we were not disappointed. It was a tasting menu that had to be ordered by all at the table, of course that took a while to negotiate among the familia. But here is the line up. By now most readers should be somewhat familiar with Spanish gourmet lingo so here it comes, all in Español.

*Tartar defrutosde mar con ajoblanco y mango caramelizado
*Ensaladadesardinasmarinadas con setas, manzanas, alcachofas y tomate
*Rollo de bonito con vegetalescrujientes
*Presaiberica, espumadepatata y crujientedepanceta y queso
*Cremosodeyogur con fresa y amaretto
*Sopade melon, brochetadefrutas y heladodequeso
It also included bread, water and house tinto. All for 26 euros!!
The only downside to the evening was that Karen started feeling ill after the 1st course and she got to pray to the porcelain Asturian God a few times. Right after that Alan and I also started to feel similar symptoms but I am glad to report that after a good night sleep we all fully recovered. Could it be another Camino miracle?
September 22
Another late start but this one was warranted given the previous nights health challenges. Another clear day but now the mornings and evenings are much cooler. The first part of the 28 Km journey is right along the Ribadesella bay before you start climbing into the Asturian country side which seems to get nicer as the days pass. After negotiating a few more hills, we dropped back down to the beach for about a 2 hour stroll overlooking pristine coastline (see pic), although still lots of cliffs and rocks, we are now seeing long deserted sandy beaches.
Over the next few stages lodging and distances are a little more problematic so Ana had researched a Casa Rural in Perus, a tiny hamlet of 29 habitants, way more animals than humans, no bars and no restaurants. The lonely small church on the deserted small plaza now used primarily for cattle movement only has mass celebrated every 2 weeks, not enough parishioners or priests. The Casa was very nice and originally built by the grandfather of the woman running it. He had gone to Cuba at age 16 to work, 9 years later he won the Cuban lottery and returned to España and built his farmhouses with his winnings, neat story.

Glad to report that capitalism is alive and well here, at least in this small hamlet. We had asked the innkeeper to get us a cab to take us to Lestres, a hilly seaside town similar to Positano with its very steep and narrow cobble stone streets. She said" the taxi will cost you 14 euros but I will take you for10...deal, we both win.

Dinner at the port was special, mussels in an onion vinaigrette sauce, seafood soup and breen grilled Asturian style, with their house Albarino. All appetites back in full force.
September 23
Our latest start so far, 9:40, it is now becoming routine vs exception. Right off the bat, a very steep hill that got our sweat going early and often, but cloudy and cool. The ladies are getting in good shape, not that they weren't, and keeping up even with their "large fully stocked packs".

When we arrived in Villavisciosa, about 15kms into the walk, we decided to buy food for a picnic, the girls volunteered, and after an hour shopping spree, which included jewelry shop browsing, they showed up with all the goods. We started walking again, into the unknown, since the tourist office had warned us there was no lodging for about another 28 kms. Right before heading into the mountains, we spotted what appeared to be a CasaAsturiana called La Casona de Amandi. We knocked, no answer at first, but as we started to leave a totally decked out woman (another Karen but from Wales) chased us down. To make a long story short, it ended up being my Karen's favorite spot. It was an Indiano house built by a rich Cuban in the mid 1800s recently purchased by the Welsh. We ate our picnic in her beautiful grounds and then, with much lighter packs, walked another very difficult 13 Kms ( the second most toughest hills of this Camino) and were then picked up by the Casas Mercedes Benzs van (see pic), the new and improved Camino continues. The Casa did our laundry and then served us a delicious home made dinner. Chicken noodle soup, green salad with smoked salmon, entrecôte followed by a shared arroz con leche. Wines were an white Rueda and a CrianzaRioja. We got lucky and the non-Camino experiences continue, but the tough hills are still being conquered.
September 24
After a delicious breakfast served in La Casona, they took us back to where we were picked up the day before to start our trek to Gijon, a short day of about 14 Kms. A few more tough hills but made easier by the cloudy and rainy day.

Ponchos on and off all day, but nothing like the torrential rains we experienced 2 years ago. Gijon is a major Spanish city with a key port and industrial base. We got to the Plaza Major around lunch hour and enjoyed a home cooked lunch at one of the many Mesones around the plaza. During the walk, I had started to feel flush and by the time the lunch was over I felt like I had been hit by a truck, my turn for the Camino bug. Went to bed and but for a 15 min stroll through the plaza around 9 pm I was out for the night. Dinner.... a banana.

On the other hand, my 3 other peregrinos went and lit the town on fire drinking lots of sidra and then dinner till midnight. Bottom line, I was just run down from the daily grind of the last month plus, the pains of the Camino but more than offset by the pleasures. The journey will continue.
September 25
We were awakened by a joyous text that Natalie Michelle, 7 lbs 3 oz came into the world. Our sixth grand child, congratulations to the Razores, who are all doing well. Can't wait to see them all soon. It rained all night but by the time we started, today at a more reasonable 8:30, just cloudy and cool. Today's 25 Km walk to Aviles is bookened by smoke stacksat the outskirts of Gijon and Aviles, a lot of mining and steel production. But the mid piece was again beautiful rolling countryside, but with a tropical storm type of shower to remind us how lucky we have been with the weather so far. There was only 1 cafe during the walk so we arrived in Aviles by 2 pm, early but pretty tired.

As we strolled into the main plaza, Alan and I spotted a 2 Star Pension, but after looking at the rooms we knew it would not fly with the lodging queens. But right across from the Ayuntamiento (town hall) they spotted a 5 Star hotel, an old castle called Palacio de Ferrares. Before we knew it we had checked in, backpacks, wet ponchos and all into the awesome rooms, nice linens and warm showers. Oh well, the new and improved Camino continues, the girls are spoiling us but who knows what the future lodging brings. Alan took the bus back to Gijon and watched the Sporting Gijon vs Valencia match, Valencia won 2-0, while the rest of us took nice naps and then bar hopped till Alan got back. There was a craving for Italian food so we found the local trattoria and enjoyed some capresse salad; pizza and Karen had her favorite, pasta bolagnese. The interesting thing, all tables were drinking sangria so we joined in the fun. This would be a terrible sin in Italia.

I had never heard of Aviles before but it is one of the nicest towns in Spain once you get into the Casco Viejo, it's old town. Most of it's streets have been closed to traffic making it very people friendly and many of its grand structures have been rehabbed. I hope to come back soon, but not necessarily walk here.
September 26
As we were heading out of Aviles on our way to El Pitu, around 9:15 today, there were still young locals partying in the streets, as the street cleaners hosed down the cobblestone streets littered with memories of the past nights festivities. Still don't know how they do it.
The guide map showed fairly flat 27 Km journey today but they were SO wrong. Up and down all day but mainly through eucalyptus forests and Asturian farms. Many horse riders today, our good friend Heidi W would have been in horse heaven. Although we pass by many villages each day, most have never had a cafe/bar and those that used to have shut down due to the poor economy, or such they say. Bottom line, we need to start packing some food at the start of each day. No ponchos today as the weather has turned sunny and in the 70s again. Not many pilgrims spotted but given where we are staying and eating understandable.

Occasionally we run into some on the trail including peregrinos we had met previously but not seen for days, then the camino stories are shared. As we arrived in El Pitu, there were only 1 and 2 Star lodgings. We actually chose Hotel Alviro, a 1 Star but very nice and clean with a nice deck to enjoy the sunshine and dry some of our daily laundry.

The ladies then said " given where we are staying, we need to have a really good dinner"..... Like we hadn't been eating well, just saying. So.... We asked where the best restaurant was, we were told El Pescador, just a few blocks away, after about a 1 mile walk, we got there, like we needed the extra steps!! Regardless, we had an over the top meal, again, and the servings were so huge even Alan and Luis could not even come close to finishing, over half the servings were left. Seafood sopa, ensaladadepulpo (octopus salad), then the 4 of us shared a paella and grilled seafood platter. Wines were an Albarino and a LanRioja. The restaurant owner was so happy to see (muchodinero) us he even gave us a ride back to our 1 Star home.
September 27
Actually a great night sleep, one of the better ones for all, maybe the hotel Stars are irrelevant to a good nights rest, but I am guessing the 16 mile hilly days have something to do with it. Another sunny day but getting colder every morning. As we started our 25 Km trek, we either had fleeces or jackets on for the 2 first hours. But off they came as we climbed one of many hills, through farmlands, major roads, eucalyptus forests and even bamboo jungles that reminded me of SE Asia, often with great views of the bright blue Cantabrian sea (see pic). Some of the recent trails are so steep and rocky that they are basically creeks when it rains, even after the last few dry days.

Not only are our body parts hurting and wearing out but so is our equipment. Alan's shoes look more like something a homeless person would give away and my heals have worn through to the steel plates.My blisters are totally gone but Karen is now experiencing the pain, on both feet ! At least our rain jackets are in tact, for now anyway.

Well, my original theory of we will take whatever lodging comes to first seems to becoming true. After 25 Km, the ladies were totally beat and we ended up in another 1 Star Pension, 25 euros per room, actually a great deal, clean by my standards but Ana used her silk sleeping caccoon, they did our laundry and cooked us a home made meal for 8 euros!! We are averaging down our per meal cost after last nights over indulgence. Tonight's simple pilgrim dinner was a fresh salad, rice with fried eggs with a side of thick tomato salsa and fresh stewed pears and house tinto. A total pilgrim experience shared with 2 new peregrinos from Germany, Volker and Ewe.
September 28
Although we have had many great days in the Camino todays weather, trail, scenery, and overall experience ranks way up there. Up and down river gullies ending on the beach up and down we went. Lots of cattle gracing and farmers working their lands with views we would all die for (see pic), and such simple lives. Speaking of that, with the exception of a few sport scores and financial market snapshots, we have NO idea of what's been happening in our crazy world, actually a nice feeling.

As we were marching our 28 Kms on our way to Luarca, another small port village, we were passed by 3 mountain bikers and 2 guys on a motorcycle, the rider with a big tv camera on his shoulders. They stopped ahead of us and started filming us as we continued our trek. To make a long story short, kind of, they were a crew from Spanish tv filming a documentary on the Camino. We think they were intrigued to meet Americans on the Camino. We were all interviewed, Ana being the star of the show, and it will air on October 11. One of the bikers was Santi Perez, a professional biker that had competed in the Tour de France and Vuelta de Espana, where he finished 2nd in 2006 (see pic). We really hit it off with them and we later partyed in Luarca where we bought them some beverages as we watched Real Madrid play one of their Champions League qualifiers. They were all good-looking young Spaniards and we did notice some googoo eyes by Karen and Ana. As they departed, all 5 guys gave them the traditional 2 cheek kisses and made their nights, the girls that are. A really fun experience. For dinner we ate tapas and Albarino vino.

The Camino is very difficult, but it doesn't kill you, just makes you stronger, and right now we are all very strong physically and mentally, but tired, especially at the end of each day.

Until next time,
Luis el Despacio, still a work in progress
UPDATE FROM VEGADEO, ASTURIAS, OCTOBER 1, 2010
WELL THE MOTHERLY DAUGHERS INSTINCTS HAVE TAKEN OVER AND WE MADE A JOINT DECISION THAT KAREN WILL COME HOME EARLY. THE HUGE BLISTERS ON BOTH HER HEELS MADE THE DECISION EVEN EASIER, SHE WAS REALLY HURTING THE LAST FEW DAYS. KAREN WAS A REAL TROOPER, WALKING OVER 225 MILES EVEN WITH HER "FULLY STOCKED" BACKPACK. PLEASE JOIN ME IN CONGRATULATING HER ON A JOB WELL DONE. SHE ARRIVES IN SEATTLE SATURDAY EVENING
This stage takes us from Luarca to near Miraz, Galicia


September 29
Other than the initial climb out of Luarca, a relatively easy day, but still 25 Kms on our way to Cartavio, a small village in Eastern Asturias. During the day we met a couple from Switzerland doing their second Camino. Along with a Brazilian we met a few days ago, we are up to 14 countries, but we are still the only Americans.

Now walking through many corn fields with occasional large barns full of milking cows. Heading west, as we have for most of the trip, we could see a major weather system approaching and ponchos were needed for the last hour. We had been hearing about a countrywide general strike over the last few days but didn't know how it might affect us. Well we found out. When we arrived in Cartavio every hotel, hostal, pension and restaurant was shut down. After some scrambling, we took a taxi back to Navia and on the positive side we got to stay at the Palacio Arias, although having the same last name didn't get us any special treatment. Anyway, a special treat but the Arias had not owned the property for over 50 years. (see pic)

Still nasty weather outside so we ate in the palace, a very nice meal for a hotel. Seafood soup, grouper on the grill and a to die for cheese flan. Albariño and house tinto the wines tonight.

September 30
After a nice breakfast served at the palace we headed to Vegadeo, home of the Arias since the 1600's. The rains had stopped and a cool morning turned into a warm day, totally unexpected. The weather here is as reliable as in Seattle.

After a little roadwork a great walk mainly through flat corn fields at the edge of the Cantabrian sea. This is Karen's last walking day and she was like a horse heading back to the barn, she couldn't wait to get there even though she was in a lot of pain. I could really relate to it since her blisters were way bigger than mine and in both feet. Ouch!!

The actual Camino goes through Ribadeo but we will be staying in Vegadeo, about 11 kms down the Eo River. To get to Ribadeo, you cross a high bridge almost half mile long, with great views of the Eo flowing into the sea, which we will not see again till we start flying over it when we return home on October 13th.

We checked into the La Casona de Tarbadelo, a Hotel Rural. The Casona is a 1600s farm house fully refurbished with all the modern luxuries of today but the charm of years past. My favorite place so far, a good ending to Karen's last 2 nights. A few months ago, we had sent random letters to about 12 Arias living near Vegadeo hoping we could meet some of them and further explore our roots.

Severino Arias, whose family has lived in the Vegadeo area since the 1700s forwarded our letter to his cousin Juan Pardo, the regions chief genealogist. Both of them came to the Casona to meet us and we chatted for about 2 hours about possible family ties and our specific families. We then went to dinner with them and their wives Anabel and Juany. All very nice and pretty excited to meet people from the US with ties to their small town. They gave us a framed history of the name Arias along with the family code of arms. Pretty cool and totally unexpected. At the end, we could not confirm specific ties to them but highly probable. For dinner we went to a local sidreria and had tapas with sangria made with sidra vs wine, it was different but very good.

October 1
Can't believe it's already October and we have been on the Camino for almost 6 weeks. We had scheduled today as a day off so Alan could continue the family research and a jackpot he hit. Juan basically has full access to records at the town hall dating back to the 1500s!! Alan and Juan spent about 3 hours going through census records for a few years and he now has a lot more details but could have spent weeks digging. Maybe next time but Juan says he will continue
feeding Alan info as he comes across more data.

In the afternoon, Juan picked us all up and gave us a 3 hour tour of the surrounding small hamlets where many of the Arias had lived since the 1600s. Juan is like a walking encyclopedia. The most fun was going to Nafaria, a 3-5 house hamlet in the middle of the mountains outside Vegadeo. The first lady we met, now a dairy farmer, was an Arias and highly probable a distant relative,( see pic) specially since one of the Arias living in Nafaria in the early 1700s had 8 boys, so imagine
the number of off springs. Juan went beyond the call of duty in welcoming us and making our stay a memorable experience. What a day!

October 2
We had arranged for a 5 am taxi to take Karen to the Asturias airport, about a 70 mile trip for her long flight to Seattle. She had mixed emotions leaving us but she made the right call under the circumstances.

The hills of Asturias are now a thing of the past but the mountains of Galicia have arrived. Partly cloudy but balmy, and very very windy. Blowing steady at about 25 mph with gusts as high as 50 all day long, straight at us from the west. By far the toughest journey in days, 29 kms and lots of mountains on our way to Lourenza, our first stop in Galicia. The architecture has totally changed, most homes built of stone and slate and all with slate roofs, from the dilapidating shacks to the refurbished estates.

Most of the walk was through pine and eucalyptus forests, we were told that the timber industry for these varieties is huge in this part of España. As we climbed up and down, we ran into many hunters with their hound dogs, trying to find the elusive javali, wild boar.

When we arrived in Lourenza we discovered they were having their annual Faba Fiesta, sounds like just another reason for a party, and the Spaniards are really good at it. The central plaza was full of booth, many selling different kinds of faba beans, including green ones they use to make seafood fabadas, an untried dish so far.

We found a great restaurant for lunch where of course we had regular fabada and pulpo gallego complimented by Galicias Albariño wine. Better than an Ambiant for an afternoon nap.

We bar hopped in the evening and ate a few local treats from the booths and ended the night watching a Vegas type, pretty high end actually, show of a 14 piece Latin band near the main plaza.

October 3
The rains returned in a big way, and the high winds of yesterday are still with us. It made the first part of the days walk just miserable and the worst was yet to come. After about 8 kms we stopped in Mondonedo, famous for it's tortas and it's 16th century Gothic cathedral (see pic). We were just drenched, not even ponchos and gortex shells kept us dry, this combined with the sweat, since it's still in the 60s, make it for a very wet experience, and chilled when you stop. The cafe overlooked the cathedral and the tower clock and bell keeper invited the various peregrinos there to take a tour, help wind the huge clock and ring the 12 pm bells. I started feeling a little fluish so I stayed back to try to get dry. Alan and Ana went and had a great experience.

As we left to complete our 27 km journey, or slosh, to Albin, the rains and winds intensified, if that was possible. We later heard this was one of the strongest fall storms to hit Galicia in decades, lots of flooding, downed trees and power lines. The rains, winds and 2,500 vertical feet rise made the afternoon a real challenge.

I had gone ahead, I just didn't stop for almost 4 hours, since I didn't want to get chilled, so I got to Albin about 30 minutes before Alan and Ana. I checked into the only pension, a 1 Star that was remodeled and very clean. The only problem.... no heat, so damp and nothing dried overnight. Luckily each room had extra blankets.

After a lengthy hot shower and some rest, we watched the Barcelona vs Mallorca match; a 1-1 draw then had dinner at the Parrilladera across the street where we had home made chicken noodle soup and a great rib eye along with a Coto Rioja.

October 4
The rains and winds finally subsided but my fluish symptoms were increasing. Luckily we had a relatively flat and only 20 km day in route to Vilalba, a fairly large town. By the time we got there I was hitting the wall, aching, chills and fever. After a quick lunch of, you guessed it, chicken noodle soup, I checked into the 3 Star pension which became my home for the next 36 hours.

With the exception of going down for some cafe con leche and toast in the morning and some soup my doctor and nurse Alan and Ana brought to the room for me, I just slept and sweated. A big thanks to them for all their care. I was really hurting and even the "Spanish Alka Seltzer flu tablets" the pharmacist had recommended were ineffective. Not fun, especially in a room by yourself a long ways from home. Are we having fun yet?

October 5
Sick day, not much else to report other than Spanish TV seems to be even sleazier than American TV. They have their own Dr Phil, Jerry Springer and more.

October 6
My "macho" instincts took over common sense and I decided to resume the journey. Should not have done it, every step was painful and to make matters worse, it started to rain. After about 6 kms, luckily we came to a cafe where they called me a taxi to Baamonde, the best 15 euro investment ever. I checked into the 1 Star pension, the only one in town, at a truck stop and went straight to bed.

More soup and more sleep. I remembered my doctor had given me some antibiotics for the trip so I decided to play Dr House and started the 5 day program. What I have seems more like some sort of infection with earaches and wheezy lungs among the other symptoms. After about 12 hours I did feel a substantial improvement, the medication or just some bad flu running it's course? I am sure all my medical buddies will have their comments for me when I return. A new record for the Camino, no wine and very little food for 3 days!!!! That should be a great indicator of my condition.

October 7
Major improvement by the morning so I decided to keep on trekking, specially since we were planning our shortest day of the trip, only 15 kms, but turned into 20, and no rain in the forecast, whatever that means. With the exception of a few sprinkles, they were correct, we actually saw the sun occasionally and a very nice day overall with limited elevation gain. You can really see the
Gaelic presence here with the stonewalls and rolling pastures, the only thing missing are the bagpipes.

A funny story, we ran into a couple of Spanish ladies fully decked out in jewels, perfume velvet sweat suits but very small backpacks. Bottom line, they made their husbands carry all their stuff. Glad Karen didn't meet them!!

At a peregrino support station, we saw a hotel rural being advertised but it was about 5 kms from the Camino. We called them and they agreed to come pick us up. This was a great find given that the only option for tonight was a dreaded albergue. El Hotel bi terre, a refurbished 1700s farmhouse is very similar to the place we stayed last year just south of Barcelona with our good friends the Vanderslices and the Lucarellis, including a fabulous gourmet restaurant. We are the only 3 guests so the service has been over the top, but not as good as the food. It is owned and operated by a family from Bilbao and 4 generations are still here, from the 90-year-old great grandma to the 2 year old, and they each have a job. Totally different lifestyle.

For dinner we started with sopa de ajo (garlic soup) then we ate family style setas al ajillo (mushrooms, which they picked an hour before, in a garlic sauce), morcilla (blood sausage), bacalao (cod), piquillos rellenos de mariscos (peppers stuffed with seafood) and langostinos a la plancha (grilled huge prawns). A bottle of Ribeira Sacra Casa Moreiras tinto went great with all the courses. At least the appetite is getting better.

As I said in my last writing the Camino doesn't kill you, just makes you stronger. For a few days I doubted my own words but I did survive and the journey will continue. Only 4 walking days to Santiago, we expect to get there on Monday to attend the 12 pm pilgrims mass in the Cathedral.

Until then, Luis el Mucho Despacio
From Friol, Galicia
We arrived in Santiago Sunday October 11th, a day early, after a grueling but satisfying 42 Km, 26 mile, final day journey. (see pic)
This stage takes us from Miraz to the Holy city and our final destination, Santiago de Compostela.

October 8
As they say, one way to a mans heart is through his stomach and last night meal made it an easy decision to use bi terra as our home for another night. A bit of trivia, the son in law Javier, who manages the operations is from the Basque country, the rest of the family from Galicia. bi means "two" in Basque and "terra" means land in Gallego. They named the hotel property to signify the bringing together of these two rival regions, Galicia and Basque.

It was still pouring and I wasn't back 100% and with a light fever, so I decided to take another day off and improve my chances of walking into Santiago vs arriving by ambulance. Turned out to be a great decision since the Hergert's 22 km walk to Sobrado was a very wet experience but they did get to visit themonastery founded by the Condes de Presaras in the 10th century, a jewel on the Camino. They were then picked up, in much soggier condition, and brought back to bi terra.

I had a very relaxing day and spent a lot of time with the different family members learning about their history, their bi terra refurbishing project and watching their daily routine.... talking about Despacio!!!!

All rooms in the house were now occupied so there was a lot more activity in the bar and dining room. We met a couple from London, they turned out to be brother and sister, biking the Camino. In the it's a small world category, he is a Senior Manager in the PwC Madrid office!! We also met Manuel, born in Paris, grew up in Ponferrada and currently living in Barcelona. What a hoot, he speaks good English , enjoys American sports, including NFL, and loves his wines even more.

We had dinner together and between our new friend and another great dinner at bi terra made it one if the most memorable nights of the trip.

The dinner line up was Croquetas Variadas, Baby Squid in it's own ink, a huge Chuleton (rib eye) shared by Alan, Manuel and me and ending with local Quesos. Vino de la noche was a Ribera del Duero tinto, Pago de Los Capellanes, the best Spanish wine so far. The festivities continued in the bar with "various" types of Orujo. As you can tell the day off helped my health, spirits and appetite.

October 9
It rained hard all night but by start time, today 10:20, the skies had cleared and sunny 23 Km trek to Arzua was had. Most of the mountains are now behind us, a good thing since the last few days bug took a lot out of me. We now walk through some sort of hamlet or village every few kms and no matter how small, they each have their own church and cemetery. In some cases the church is inside the cemetary ( see pic).

As we hit Arzua, the number of pilgrims grew exponentially. This is where the most common route, the Camino Frances that we did in 2005 from St Jean Pied de Port, only 500 miles, and our Camino del Norte meet, both ending in Santiago. Due to the lodging shortage, I stayed in the same pension we stayed in 2005 and the Hergerts stayed in a fancy Casa Rural about 1km out if town.

For dinner we went to a small Gallego restaurant recommended by Manuel. All cooking done by family members, no menu and no prices, but very reasonable. We had croquetas, pulpo, pork chops and membrillo (quince) with goat cheese. Wines were an Albarino and a Ribera Sacre. At the end they hand you a crumbled piece of paper with what you owe. A great meal at a great price.
October 10
What a zoo, 100s of pilgrims of all types and ages starting their day in route to Santiago. Most of them didn't even have backpacks; some daypacks but all dressed the part. To get a Compostela, the certificate signifying you walked the Camino, you only have to walk, bike or ride a horse for the last 100 kms. So at this point the masses are primarily people that started a few days ago and have most of their gear carried by support vehicles. The first hour was like a herd of cattle heading to the barn, as time passed the masses dispersed and became tolerable. The rest of the walk, other than long was uneventful except for Ana and I getting stung by a bee.

We had not planned arriving in Santiago until tomorrow but the energy was there to get it done and away we went. The only problem... No lodging whatsoever reserved and this was a 4 day weekend, another party, in Spain and the city was fully booked, even the albergues! No problem, we have Ana the lodging queen and sometime around 7:45 pm, she showed up with a big smile and a room for 3, she did it again. The alternative wad not going to be pretty, taxi back to the "quaint" 800 bunk bed albergue just outside Santiago for a cozy night with 797 other peregrinos. Thanks again Ana!!

The streets were packed and we went to the traditional tapas run where we met other pilgrims we had met along the way (see pic). These reunions are one of the neat things about the Camino, after a few sangrias and celebratory glasses of vino a great night sleep was had by all. Thanks again Ana!

October 11
The Hergerts got up early to go to the pilgrims office to get their Compostela and then get in line for mass and avoid the really long waits. I decided to sleep in, I had already done the normal traditionsin 2005 and 2008 and I couldn't "legally" get a Compostela since I had missed one of the last stages (sick) and not walked the last 100 kms. Also, I HATE lines, and lines there were. This place was like Disneyland on steroids. By 11 am, the line to go pay respects to The apostle Santiago was a 2-3 hour ordeal. To get the Compostela probably 2 hours.

I spent a good chunk of the day just hanging out and watching people and pilgrims file into Santiago. The most interesting and entertaining were the "wannabe pilgrims". Mainly professional looking types that had outfitted themselves with designer pilgrim uniforms, except they were perfectly clean, ironed and even bought themselves hiking boots and staffs with Santiago souvenirs hanging all over themselves. What a circus, and such a difference from the almost 7 weeks of peace and quiet. At the same time it was thrilling to see the excitement and boom to this terrific city.

In the evening Alan and I held court in one if the many outdoor cafes and watched more people march in and renew acquaintances with faces of the past few weeks. We then went to vespers by about 25 nuns at the Convento de San Paio, ala Sound of Music.

For dinner we had arranged to meet with Manuel for a celebratory and victory dinner. He told us he would pick the restaurant and he did not disappoint. He is in the restaurant business so he is very knowledgeable on all food and wine matters, my kind of guy.

We started with pulpo, navajas, scallops and clams. This course was complimented by a Mauro Ribera del Duero, which ended up being the favorite Spanish wine of the trip.

We then shared half of a 4 lb rape with boiled potatoes and green peas, with a Corullon wine. Dessert was an almond tart and goat cheeses cake topped off with orujo, many orujos.

What an end to a great night and trip. Too bad Karen wasn't here to experience it but I know she is enjoying the kids back home and certainly not missing her now healing blisters and aching feet.

October 12/13
Drove to Madrid on Tuesday, about 6 hours, and on Wednesday had a great early flight home. Now the re-entry process starts back to reality.
One step at a time my third Camino is now complete and talk of Camino 2012 has already started. We heard there is a Camino in Italy from Milan to Rome that may be worth investigating.

Camino 2010 was probably the toughest with probably around 60,000 vertical feet of elevation gain, certainly the longest, 41 walking days and about 1,050 Kms, not including getting sick, lost or the amount we walk in the evenings and days off. I lost 30 pounds during the walks but gained 23 pounds eating and drinking at night for a net loss of 7, about 1 pound per 100 miles!! However, the boots did make it, but barely (see pic).

From a dynamics perspective, both from within our group(s) and with other pilgrims we really had 5 different Caminos.
# 1 The Alan, Kevin, Steve and Louie
# 2 The Alan and Louie
# 3 The Ana, Alan, Karen and Louie
#4 The Ana Alan and Louie Sick, and
# 5 The Ana, Alan and Louie

They were all different, unique and full of great memories. Here is a list of some of the high and low lights:
Best Lodging - bi terra
Worst Lodging - Gernika
Best Lunch - Bilbao
Best Dinner - El Pitu, El Pescador
Best French Wine - Figeac, St Emilion
Best Spanish Wine- Mauro, Ribera del Duero
Best Day - St Jean to San Sebastian
Hardest Day - St J to San Sebastian
Worst Day(s) - Sick Days
Best Pilgrims - Manuel and Josep
Weirdest Pilgrim - The Italian Dude
Toughest Climb - Villaviciosa
Worst Blisters - Karen
Easiest Day -None
Overall - Priceless
Until 2012, Luis el Despacio in Progress
From my Morning Chair in Mercer Island with Starbucks Coffee and Glad to be Home.