April through September ● 14 days / 13 nights
Cycle the 1000 year old pilgrimage route, the Camino de Santiago, to gain your Certificate of Pilgrimage/Compostela. Available as a private, custom tour only, for 4+ cyclists, on your dates.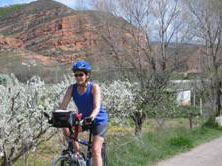 Day 1 PAMPLONA
Arrival in Pamplona; hotel check in and rest. Pamplona was founded in 75 BC by the Roman general Pompey. The city is also famous for the running of the bulls in July. This afternoon explore the city from the Plaza de Toros through the medieval core with your guide, followed by an early welcome dinner.
Overnight: Hotel AC Pamplona D
Day 2 RONCESVALLES • PAMPLONA - Riding distance: 46.4 km/29 miles
After breakfast bike fit out prior to departure for the Pyrenees.Founded in 1100, the monastic community of Roncesvalles has provided shelter to pilgrims ever since. After touring the complex, cycle the first stage of the Camino, through valleys and thick forest and down along the Irati River valley where Hemingway once fished. Picnic lunch en route. On a stroll this evening through old Pamplona, you'll sample Basque cuisine in the many different types of tapas dishes, complemented by local wines.
Overnight: Hotel AC Pamplona B Picnic D

"What more can we say. It exceeded our expectations. We love Carlos and the wonderful memories which we'll have of the Camino and northern Spain."
Bob Brown with Travel Quest, Seattle, WA
Day 3 PAMPLONA • PUENTE LA REINA • ESTELLA • SAN MILLÁN DE LA COGOLLA - Riding distance 49km/30 miles
Continue to the pass at Alto del Perdón, past the 12th century church of Eunate to beautiful Estella. After a picnic lunch, pedal into the bucolic Valley of Cogolla and the ancient monasteries of Yuso and Suso. Dine and lodge at the monastery.
Overnight: Hospedería de San Millán B Picnic D
Day 4 SAN MILLÁN • SANTO DOMINGO DE LA CALZADA - Riding distance 58km/36 miles
Begin the day with a tour of the 6th century Monastery of Suso, then ride on through countryside dotted with medieval villages and into the town named for a patron saint of the Way. Lunch along the way. Free evening.
Overnight: Parador de Santo Domingo B L
Day 5 SANTO DOMINGO • BURGOS - Riding distance 71km/44 miles
Leave the Region of Rioja with its vineyards and enter Old Castile, with rolling cereal fields through which bandits roamed in the Middle Ages. Picnic by the Monastery of San Juan Ortega. Enter Burgos on the plains, once home to El Cid. Enjoy a guided walking tour of the old quarter and Gothic Cathedral. Dinner in an historic restaurant.
Overnight: Mesón del Cid B Picnic D
Day 6 BURGOS • CARRIÓN DE LOS CONDES • LEÓN - Riding distance 63km/40 miles
Enjoy a leisurely ride along the back roads, past the 18th century Canal de Castilla; picnic in the ruins of the Monastery of San Antón where lepers' bells once chimed. Arrive in Carrión, and relax over drinks. Transfer into León. Dinner.
Overnight: Posada Regia B Picnic D
Day 7 LEÓN
Enjoy a guided walk to the main sights in the city, including the Cathedral and the frescoes at San Isidoro. Relax this afternoon and evening.
Overnight: as above B
Day 8 LEÓN • ASTORGA • CACABELOS - Riding distance 66,2km/41 miles
Shuttle this morning to the old Bishopric of Astorga, on the Silver Route. Sample the local pastries before cycling on past the Knights Templar castle at Ponferrada and into El Bierzo wine country; light lunch en route. Stay in a palace. Wine tasting and dinner at the inn.
Overnight: Palacio de Canedo B L D
Day 9 CACABELOS • VILLAFRANCA • O CEBREIRO - Riding distance 43km/27 miles
Your first stop is Villafranca's Door of Forgiveness, after which you begin a gradual ascent to the shrine at • Cebreiro. Picnic en route. Stay at the summit with views into the Galician mountains. Dinner in the village.
Overnight: Posada Cebreiro B Picnic D
Day 10 O CEBREIRO • SARRIA - Riding distance 38km/24 miles
After a brief ascent, you descend to Sarria, an old market town with palaces and castle along the Camino. Shuttle this afternoon to nearby Samos Monastery. Dinner at the hotel.
Overnight: Casa Cimadevila B D
Day 11 SARRIA • PORTOMARÍN • MELIDE - Riding distance 60km/37 miles
Cycle on over undulating terrain. Lunch en route. Stay on a farm, with lake and horses. Dinner at the farm.
Overnight: Casa Santa Mariña B L D
Day 12 MELIDE • SANTIAGO - Riding distance 51,8km/32 miles
Continue on the last stage of the Camino with a picnic lunch in San Paio; pass Baroque pilgrimage crosses en route into the Holy City. Obtain your Compostela, then relax at your manor house hotel or in a cafe. Galician Tapas dinner. Overnight: Hotel Virxe da Cerca B Picnic D
Day 13 SANTIAGO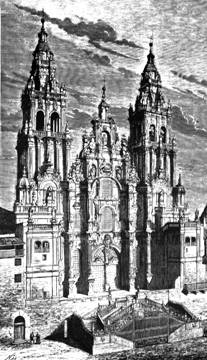 After a morning tour of the Cathedral, enjoy free time until a special farewell dinner. Overnight: as above B D
Day 14 SANTIAGO DEPARTURE.
After breakfast transfer out to airport. B
INCLUDED:
Hotels or similar, based on double occupancy, with breakfast
Meals per itinerary
Tours & entrances per itinerary
English-speaking guide/driver & support van
Bikes & bike equipment* including snacks

PRICE:
On request
subject to date
Number in group

*Detailed bike equipment list on request.

Contact us for smaller or larger groups. All prices subject to currency fluctuation adjustment.