Client quote
Just a quick note to let you know we made it back safely and had a wonderful experience in Portugal. Catherine and Martin were superb and we had a delightful time with them. Each place we stayed was unique and charming, the food and wine outstanding and the sights and experiences memorable. This confirms, once again, the value of the services like yours. We would never have found many of these places on our own. We hope to return someday and explore places in a little more detail. Thank you very much for setting up a great trip. I could highly recommend it to anyone.
Mary, David & Zach Reardon, Fort Myers, FL, USA
Castles & Cork Trees
Ambling through the Alentejo
Cycling through rolling fields of wildflowers and olive trees, we'll celebrate an area of Portugal that many consider to be the last vestige of old Iberia. Medieval walled villages, white-washed and trimmed in blue, dot the hilltops while plains of wheat and oats spread out below, freckled with small flocks of sheep and goats.
The Alentejo was the scene of some of Portugal's bloodiest battles with Romans, Moors and later Spaniards. Now it's slowly building a reputation for its phenomenal wines and exquisite gastronomy. We'll experience the majestic tranquility of Alentejo towns and villages; from the graceful town of Evora with its Roman & Moorish heritage to delightful Castelo de Vide with its picturesque medieval Jewish quarter and tiny synagogue - the oldest in Portugal.
You'll be left with unforgettable memories of this lovely region - its serenity and heart-stopping beauty and, of course, days of idyllic cycling. Our last night finds us in old Lisbon where we'll celebrate and say "goodbye" with a farewell, Fado dinner.
Ride across the rolling Alentejo plains studded with centenial olive trees and ancient cork forests.

Taste the hidden gems of peninsular wines - excellent, full-bodied, luscious reds & whites and be amazed.

Stay in whitewashed medieval walled villages and spend a night in a regal marbled convent.

Explore the village of Castelo da Vide with its heart-breaking remnant of its pre-Inquisition Jewish quarter.

Sample the mouthwatering food of the Alentejo, it's unique fusion gastronomy blends arab, jewish and roman traits.

Relax as you slip into a slower pace of life, where the bells on sheep replace the honking of city traffic.
Complete Trip Itinerary
Trip Itinerary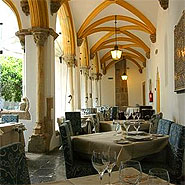 Day 1
Évora
After an AM pickup in Lisbon, we shuttle to the grand old town of Évora, spiritual heart of the Alentejo and one of the most photogenic towns in Portugal. Évora is a fascinating mixture of Roman, Moorish and medieval styles. In fact, so extraordinary for its beauty and history that the whole town is a World Heritage Site. We'll have plenty of time to visit many of the unique sites, while wandering the labyrinth of cobbled Moorish streets. Group welcome dinner at the palatial Pousada.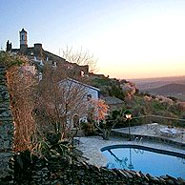 Day 2
Évora to Monsaraz ride of 56km / 35m
We cycle through rolling countryside to the the ancient walled village of Monsaraz, virtually unchanged since the middle ages. En route we'll examine Celtic dolmens rising from a cornfield and begin our acquaintance with the Alentejo - cork and olive groves, whitewashed houses with their blue trim, and the black clothed figures patiently tilling the fields. We'll get to Monsaraz in time to explore this charming village and to enjoy the spectacular views all the way over to Spain.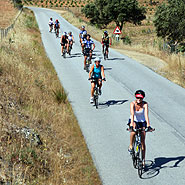 Day 3
Monsaraz to Vila Vicosa ride of 63km / 39m
A wonderful ride today through vast, rolling expanses of wildflower covered plains leads us to the equally flower bedecked royal town of Vila Vicosa, the family seat of the Bragancas, last ruling family of Portugal. Vila Viçosa is one of three "marble towns", where even the cobbles are made of that valued stone. On the way, we'll visit a little town famous for its pottery and watch the potters at work - a family trade that's fast dying out. Group dinner at the renound D. Carlos.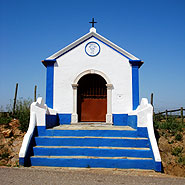 Day 4
Vila Viçosa ride of 50km / 31m
Optional loop ride today to the evocative ruins of Juromenha castle overlooking the Guadiana River on the border with Spain. Riding on, we'll visit the medieval village of Alandroal with its Moorish castle and walls before heading back to Vila Vicosa. The ride will leave us with plenty of time to explore Vila Vicosa, the ducal palace and the 13th century castle built by King Dom Dinis after taking it from the Moors. Evening Free to savour local delicacies.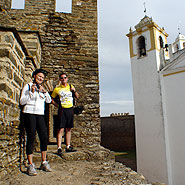 Day 5
Vila Viçosa to Flor da Rosa ride of 80km / 50m
Today we ride north to the tiny village of Flor da Rosa and its impressive 14th century monastery. The walled town of Estremoz is on our way, with its moat and drawbridge and towering ramparts. Riding on northwards we'll stop to visit the Royal Stud farm in Alter do Chao, where the beautiful Lusitanian horses have been bred for over two hundred years. Between stops, will be easy riding through some of the oldest olive groves in Portugal. Group Dinner.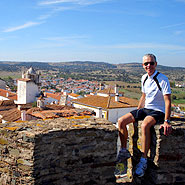 Day 6
Flor da Rosa to Castelo de Vide ride of 53km / 33m
Our last day of riding will be through the beautiful oak-forested slopes of the Serra de Sao Mamede to the medieval spa town of Castelo da Vide with its enchanting Jewish quarter. Riding onwards and upwards through the Serra we'll reach the breathtaking walled village of Marvao, high above the Alentejo plains before we ride on to lovely Castelo de Vide. Here we'll visit the tiny 13th century synagogue in the Jewish quarter set amid medievel cottages. Group Dinner.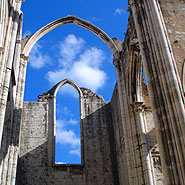 Day 7
Lisboa
Today we'll catch a shuttle to old Lisboa where we'll have the day free to shop around, enjoy the esplanades or join a walking trip around town. Farewell dinner at one of the greatest Fado houses in Alfama.
Castles & Cork Trees
Dates:

14-4-2012 to 21-4-2012

22-9-2012 to 29-9-2012

Price:

€2690

Single Supplement:

€500

Duration:

7 NIGHTS/ 8 DAYS

Included:

(Accommodation & meal bookings handled by our agents for this tour) all breakfasts, 5 dinners w/ wine

Accommodation:

Luxury B&B, Restored Convent & Castle

Daily Mileage:

50 km / 31 miles average

Activity Level:

Easy to Moderate

Tour Interests:

Gourmet Foods, Wines, Photography, Architecture