Client quote
Many thanks to you and Martin for organising a great holiday for us. ...the bikes were great and the route was very well researched. ...So many of the towns had processions, so we were kept busy following them around. All quite spectacular! ...you certainly know how to look after cyclists. If we ever get over that way again, we will do another tour with you.
Wendy & Neil Austen, NSW, Australia
Valleys & Vineyards
Northern Portugal's green wine region & Galician Spain
Introduction | Highlights | Itinerary | Details
Explore the verdant countryside of northern Portugal's Minho wine-country and the spectacular coast of Galician Spain. We start the tour in northern Portugal at Bom Jesus with its lovely sanctuary and wend our way north up into Spain's Galicia -- famous for its Gaelic resemblance to Ireland and its fabulous seafood. Fabulous coastal cycling will bring us to the seaside town of Baiona where we'll spend a night at the romantic Parador de Baiona situated in a medieval fortress overlooking the sea.
The next day brings us back to Portugal where oxcarts ply the ancient country lanes and enthusiastic workers hail us from the fields. Beautiful landscapes -- hillsides terraced with vineyards and valleys laced with lazy rivers await us at every bend. Truly grand hotels, paradors and gracious manor houses highlight the tour and make it one of our most popular.
Cycle through the ancient villages of Celtic Portugal unique in their granite architecture.

Sample the light, fresh Minho valley green wine - only produced in Portugal - served chilled with fresh grilled fish on a warm summer evening. Spectacular!

Wind down the gentle Lima River valley with it's crystal clear waters inviting you in for a cooling swim

Stay in lovely old family manor houses with their luscious gardens and classic decor.

Stroll through colourful folk festivals and maybe pick up something useful like a wool spindle or a butter churn.
Complete Trip Itinerary
Trip Itinerary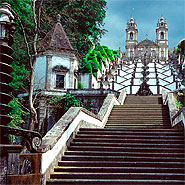 Day 1
Porto to Bom Jesus
Late morning transfer Porto to Bom Jesus, near Braga. Nestled on a wooded hillside, an 18th century Baroque pilgrimage church with a magnificent Way of the Cross staircase is surrounded by lovely gardens and views. We stay at the elegant Hotel do Parque adjacent the church. The afternoon may be spent resting, going for a short warm up ride or exploring the grounds. Champagne reception and welcome dinner this evening.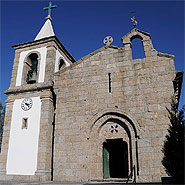 Day 2
Bom Jesus to Caldelas ride of 45km / 28m
From Bom Jesus we descend the wooded hills to the site of a Celtic hill settlement from 500 BC, continuously occupied but never conquered through Roman times. Next is Povoa de Lanhoso and its famous medieval castle perched on the largest boulder in the Iberian peninsula! From there we make our way to the little spa town of Caldelas to our hotel with lovely gardens, spa and pool. An al fresco dinner together tonight.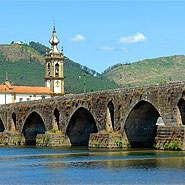 Day 3
Caldelas to Ponte de Lima ride of 47km / 29m
A short hilly ride today through the lush countryside to the enchanting river town of Ponte de Lima, with its classic sixteen arch Roman bridge spanning the beautiful Río Lima. The town is a warren of cobbled medieval streets and sits right on the river which is lined with sandy beaches. We spend the night at a lovely manor house dating from the 17th century. Dinner at a wonderful restaurant near the waterfront.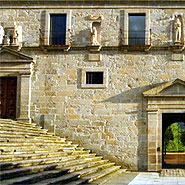 Day 4
Ponte de Lima to Gondarem ride of 50km / 31m
A truly gorgeous ride today, first through high and desolate "wolf country" and then through the green and fertile hills to the Río Coura and a welcome picnic and swim. We then head for Caminha, at the mouth of the Minho River and the border with Spain. We follow the river to Gondarem and our 17th century inn with pool and tennis court. Dinner with lovely views over the Minho River.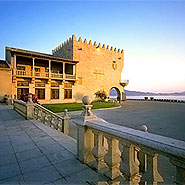 Day 5
Gondarem to Baiona, Spain ride of 45km / 28m
Today we ferry across the Minho River to Spain and cycle up the rocky Atlantic coast - a wonderful ride with the ocean on one side and pine clad hills on the other. Our destination is the little harbor town of Baiona where the first of Columbus' ships returned from the New World. We'll be staying at the stunning Parador de Baiona set in a walled fort overlooking the sea. Dinner tonight will be a fabulous paella feast.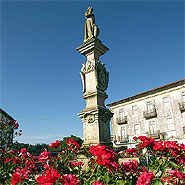 Day 6
Baiona to Monção, Portugal ride of 50km / 31m
We ride back through the wooded Galician countryside to Portugal and the fortified town of Monção, above the Minho River. En route we'll visit Tui on the Spanish side and the medieval walled village of Valença with its white washed houses and tiny cobbled streets. After lunch, we follow the Río Minho until we reach Monção. Here we'll stay in the center of this charming town. Free evening for dinner.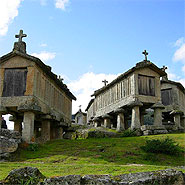 Day 7
Monção to Arcos de Valdevez ride of 37km / 23m
Be prepared for one of the prettiest rides of the trip! An excellent road descends into a spectacular river valley where we follow the Río Vez to the idyllic little river town of Arcos de Valdevez. We'll spend two nights here at another elegant manor house complete with pool. Plenty of time today to explore the town, swim in the river or enjoy the pool. Dinner together.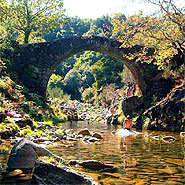 Day 8
Loop ride to Soajo ride of 49km / 30m
Today is one of everybody's favorites - an uphill with spectacular views of wild countryside to the edge of the National Park and the little town of Soajo where we'll stop for coffee and cake the town's bakers are famous for. Then it's a long descent and rolling along the lovely Lima River to Ponte da Barca where we'll reward ourselves with a sumptuous picnic beside the river under graceful weeping willows. Free evening.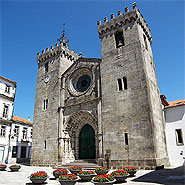 Day 9
Arcos to Viana do Castelo ride of 47km / 29m
A pleasant ride today as we cycle westward through the lovely Lima valley - church bells, terraced hillsides, long-lashed oxen - an area almost untouched by time. Our destination is the graceful old capital of the Minho, Viana do Castelo. This handsome historical town is graced with stately old granite buildings and is noted for its ceramics and handicrafts. Dinner this evening at a wonderful Restaurant.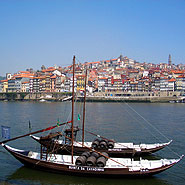 Day 10
Viana do Castelo to Porto
Today we transfer to the bustling city of Porto, on the Douro River, best-known for the wonderful, eponymous, Port wine. After checking into our elegant old-world Hotel, we'll devote our energies to sampling the ambiance of this timelessly captivating city. We'll lunch on the the colorful old riverside Ribeira, before visiting a Port Wine lodge just across the river. Tonight a farewell feast at one of Porto's finest restaurants.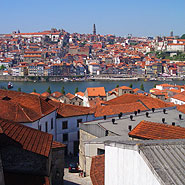 Day 11
Farewell
After breakfast, we'll offer an early am shuttle to the airport for those leaving. For those of you staying on we'll be happy to suggest other places to visit in Portugal.
Valleys & Vineyards
Dates:

23-8-2012 to 2-9-2012

Price:

€2780

Single Supplement:

€500

Duration:

10 NIGHTS/11 DAYS

Included:

(Accommodation & meal bookings handled by our agents for this tour) all breakfasts, 8 dinners w/ wine + more

Accommodation:

Luxury B&B, Boutique Hotels, Restored Monastery

Daily Mileage:

50 km / 31 miles

Activity Level:

East to Moderate

Tour Interests:

River swimming, Folklore, Picnics, Celtic & Iberian History