Client quote
We have just experienced the trip of a lifetime – what a fantastic way to explore a country and to appreciate its beauty, people, food and wine. We were made to feel very welcome, stayed in amazing accommodation, had the best wines and a lot of laughs. Catherine and Ben went out of their way to make us feel special and nothing was ever too much trouble. This was a trip to remember and one to tell everyone about. We now have wonderful memories to share with our family and friends.
Greg and Shirley Robertson, Melbourne Australia
Camino de Santiago - 14 days
Medieval Pilgrimage Route Across Northern Spain to Santiago de Compostela
'...a pilgrimage across northern Spain to the sanctuary at Santiago de Compostela, is the finest journey in Spain and one of the two or three best in the world.' So wrote James Michner in his monumental book on Spain, Iberia. For a thousand years since the bones of St. James were reputedly discovered in Santiago, common people, bishops, priests, kings, popes and saints have made this famous pilgrimage. Our tour will echo their footsteps following the first guide book ever written by a monk in the 12th century - the Codex Calixtinus. We begin high in the Pyrenees above Pamplona and cross beautiful unspoiled northern Spain taking in the cathedral cities of León and Burgos, and countless pilgrim stops steeped in wonders and miracles along the way. Our lodgings include luxurious monasteries, ancient pilgrim inns and small hotels. We dine in restaurants famous for their regional cuisine and atmosphere.
Trip Highlights
Join pilgrims from all over the world to ride one of the oldest pilgrimage paths in history.

Sample the silky Rioja wines and visit one of the region's excellent bodegas.

Visit the remarkable cathedral of Leon with its astounding stained glass windows.

See the tomb of El Cid in the cathedral in Burgos.

Visit countless ancient monuments that date back to the beginning of Christian times.

Stay in luxurious monasteries & village inns.

Trade camino stories with other pilgrims along the way.

Take part in a "queimada" in the misty heights of the Camino in the ancient village of O Cebreiro.

Reward your challenge with a triumphal arrival at the Cathedral of Santiago de Compostela and earn your Certificate.
Complete Trip Itinerary
Trip Itinerary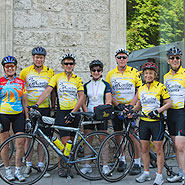 Day 1
Roncesvalles
Early afternoon pickup in Pamplona and transfer to Roncesvalles, the legendary pass shrouded in deep forests and mists, and the traditional beginning of the Camino in Spain. After checking in to our centuries old pilgrim hotel and fitting our bikes, we'll have time to explore this beautiful area. Late in the afternoon, we'll pickup our pilgrim passports. This evening we'll toast our adventures to come with a champagne reception and a Basque dinner.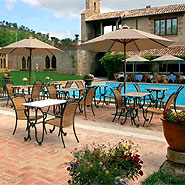 Day 2
Roncesvalles to Puente la Reina ride of 77km / 48m
Our first day's ride takes us on a long lovely ride downhill through shady woods following the Urrobi River, where Hemingway spent so much of his time fishing when he wasn't bullfights. Along the way, we'll pause to visit the mysterious 12th century Templar church of St Maria Eunate before arriving at the little town of Puente la Reina famous for its 11th century humped bridge over the Río Arga. Night's accommodations at stellar El Peregrino hotel famous for its cuisine. Dinner together.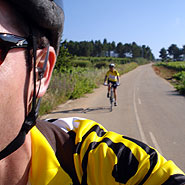 Day 3
Puente la Reina to Laguardia ride of 85km / 53m
We ride off this morning toward the medieval town of Estella with its imposing churches and the 12th century Palace of the Navarese kings. We then head up into the Rioja Alta country famous for its superb wines. We spend the night in a singular mannor house in the little walled town of Laguradia in the heart of the Basque Rioja province of Alava, considered by many to produce the finest Rioja wines of all. Taste for yourself at our dinner together!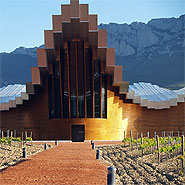 Day 4
Laguardia to St. Domingo ride of 45km / 28m
Today we take a forgiven detour off of the Camino, into the Rioja Alta, where there'll be a chance to visit one of the wineries. After lunch, we'll head on to St. Domingo de la Calzada, an enchanting walled town where we'll spend the night - but not before visiting St. Domingo's most important sight, the famous church with a hen and a rooster. To understand why, you'll have to come on the tour! Group dinner at one of the best restaurants along the Camino.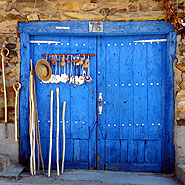 Day 5
St. Domingo to Burgos ride of 92km / 58m
Riding ever westward, we head into the beautiful Oca hills to Burgos, home of one of Spain's biggest heroes, El Cid. Along the way, we'll visit San Juan de Ortega - one of the holiest spots on the Camino and where Queen Isabel prayed for a child. In Burgos, we will be staying very near the stunning Cathedral built by wool merchant in the 13th century and harboring the tomb of El Cid. Free evening to sample one of Burgos' famous restaurants or tapas bars.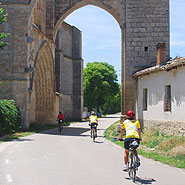 Day 6
Burgos to Carrión de los Condes ride of 96km / 60m
Today we head across the meseta, the lovely gently rolling plains of northern Spain, to Carrión de los Condes. Around lunchtime, the Camino takes us right through the main nave of the haunting ruins of the San Antón Church - once home to monks skilled in curing people of St. Anthony's Fire. Onwards, we eventually arrive in Carrión where we'll eat dinner and spend the night in the sumptuous royal monastery of San Zoilo - a national monument in its own right.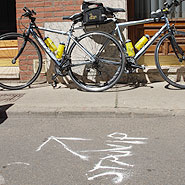 Day 7
Carrión de los Condes to León ride of 94km / 59m
Riding onwards, across the vast rolling meseta we pass through Sahagun & its ruins of a monastery that was once so vast and powerful that it minted its own coin! Passing through innumerable villages, each with its own share of legends and miracles, our ride brings us to León & its breathtaking Cathedral. We have two nights here in which to rest up and visit the wonderful sights that León has to offer. Our hotel NH is wonderfully located in the heart of the old town. Evening free.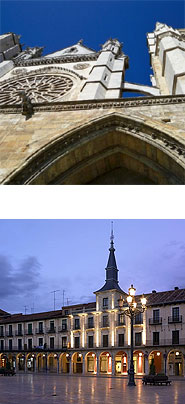 Day 8
León
A day to relax and just enjoy León. Visit the wonderful Cathedral with its incredible stained glass windows - so many of them that they make up 60% of the exterior walls! An engineering marvel. Then there's the Basilica de San Isidoro with its vivid 12th century frescos depicting scenes from the bible and everyday life in medieval Spain. You might want to do like the Spaniards and while away some hours just hanging out in the Barrio Humido, so called because of all the many bars, eating tapas and watching the world go by.

Joining our tour today? After 10:00am meeting at our hotel we'll brief you on the tour and present you with your tour packages. After getting you fitted for your bike, we'll then make sure you get your Pilgrim Passports and point you in the right direction for a day of sightseeing in beautiful León.

Welcome Dinner tonight at one of León's oldest restaurants to say 'Buen Camino' to our newly arrived participants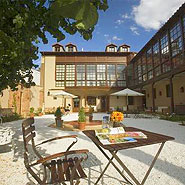 Day 9
León to Astorga ride of 61km / 38m
Today, we're back on our bikes and on to Astorga, the land of the Maragatos, a curious subculture of mysterious origen. Astorga was once a Roman stronghold and now is home to a 15th century Cathedral and neo-gothic Episcopal Palace Designed by the famous Catalan architect, Antoní Gaudi. Our gorgeous guest house is right across from the Cathedral and the Palace. Free evening.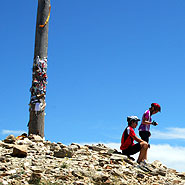 Day 10
Astorga to Cacabelos ride of 74km / 46m
Leaving Astorga, we'll head up into the Montes de León that separate León from Galicia. As we ride through this region dotted with tiny hamlets unchanged since the Middle Ages, the 'feeling' of the Camino is palpable. We'll take time to visit the magnificent Templar's castle in Ponferrada before riding on to the old village of Cacabelos to our restored country palace set in its own vineyards. Dinner together tonight at a truly memorable setting where all the ingredients are estate grown.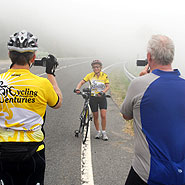 Day 11
Cacabelos to O Cebreiro ride of 43km / 27m
We head today for Galicia and the last leg of the Camino. We pass Villafranca Del Bierzo along the way with its tiny little Church of Santiago and almost as holy as the Cathedral in Santiago de Compostela. From here we climb into the misty Montes de Galicia and our night's destination, O Cebreiro, a tiny hamlet just inside the Galician border. The little church here has a chalice that has been closely linked with the Holy Grail. Dinner together.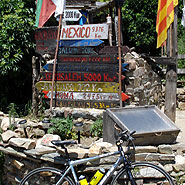 Day 12
O Cebreiro to Portomarín ride of 70km / 43m
We're now in the gentle misty country of Galícians - a Celtic people with their own language. Their music, culture and even countryside are more reminiscent of Ireland than Spain. Riding along stonewalled roads lined with lush green meadows we'll stop to visit the sprawling great 6th century Monastery of Samos before riding on to Portomarín high above the Miño River. Our accommodations are in a comfortable inn with lovely views out over the Galician hills. Dinner together.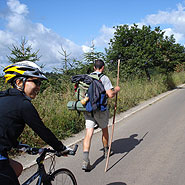 Day 13
Portomarín to Arzua ride of 62km / 28m
Almost there! Today we spend our last night on the Camino near the little town of Arzúa. Along the way, we'll visit one of the most outstanding Romanesque churches along the Camino in the hamlet of Vilar de Donas. The church is especially evocative of the Middle Ages, adorned with carvings and tombs of the Knights of Santiago. Through forests and meadows, we follow the actual Camino, on to our night's accommodation - a Galician country manor house. Dinner together.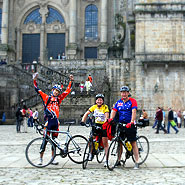 Day 14
Arzúa to Santiago! Ride of 50km / 30m
The last day's ride brings us to our hard-earned goal - the beautiful cathedral town of Santiago. We'll be accompanied by other pilgrims - all eager to reach their goal. In Santiago, we head to our monastic hotel only a block from the Cathedral. There'll be time to collect your Compostela (pilgrim certificate) before going to the Cathedral for a guided visit. Farewell Feast tonight at one of Santiago's most renown restaurants to celebrate our achievement.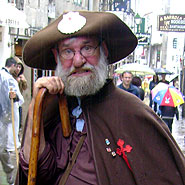 Day 15
Final Day
After breakfast we'll say farewell and offer an A.M. transfer to the airport. For those of you staying on we'll offer recommendations of what to see and suggestions as to where else to go if you're looking for a few more days of traveling in this exceptionally lovely area of the world.
Trip Details
Camino de Santiago - 14 days
Dates:

21-5-2011 to 4-6-2011
19-6-2011 to 3-7-2011
4-9-2011 to 18-9-2011

Price:

€3590

Single Supplement:

€400

Duration:

14 NIGHTS/15 DAYS (Pick up in Pamplona)

Included:

all breakfasts, 8 dinners w/ wine + more

Accommodation:

Mountain lodge, Luxury B&B, Paradors, Small Hotels

Daily Mileage:

70 km / 42 miles daily average

Activity Level:

Moderate

Tour Interests:

St James, Pilgrimage, Romanesque architecture, Wine