Client quote
I can't say enough about how good a trip we had and it gave us great inspiration to make the DVD. I wanted to send one to Gordon and Maggie to show them what an excellent job you did. We can't stop talking about the trip you took us on, it left us with great memories that we hope to re-create at some point.
Tom & Rosemary Blainey, Toronto, Canada
Catalan Adventure - updated for 2011
Barcelona to Carcassonne; The Spanish & French Mediterranean
The ancient kingdom of Catalunya once straddled the lofty Pyrennes between northeastern Spain and southwestern France all the way from Valencia in Spain to Carcassonne in France. Nowadays, it is better known as the autonomous region of Catalunya in Spain and the Languedoc-Roussillon province of France. This geographic area was home to some of the greatest creative geniuses of our time such as Dali, Miro, Gaudi and Picasso, as well as, the powerful medieval religious sect, the Cathars. We'll spend 11 days following in their footsteps exploring artistic, breathtaking Catalunya and the vine-covered hills of Languedoc-Roussillon - areas of extraordinary contrasts, both culturally and scenic, unmatched in their romantic associations.
From the stunning pine clad cliffs of the Costa Brava to enchanting seaside villages, artist Mecca's, eye-popping austere castles of the doomed Cathars and riding through the largest wine producing area of France, while in the evenings sampling some of their produce accompanied by the incomparable Catalan cuisine before finally arriving at the greatest Cathar fortification of all – fairytale-ish Carcassonne with its perfectly preserved walls - this trip truly has it all!
Enjoy spectacular rides fueled by unforgettable meals from 2 culinary giants – Spain & France!

Ride Spain's stunning trails-for-rails through the lush volcanic Garrotxa region.

Enjoy one of the most memorable, imaginative and unique culinary experiences at a Michelin starred restaurant.

Sample the rich art of Catalonia's favorite son when we visit Salvador Dali's museum and, later, his whimsical home in a tiny cove.

Spend a day in the seaside town that was home to Matisse, Derain and Picasso. Follow the path that shows where they painted many of their views of the town.

Take in breathtaking views of the castles of the doomed Cathar's, pearched high above the Languedoc vineyards.

Spend the night in France's fairy-tale citadel of Carcassonne.
Complete Trip Itinerary
Trip Itinerary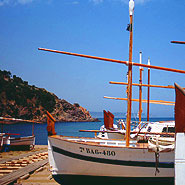 Day 1
San Feliu de Guixols
After an a.m. pickup in Barcelona we'll transfer 103k/ 64m to the beautiful Costa Brava with its turquoise water, secluded beaches and pine-forested coastline. Our destination is the habour town of San Feliu de Guixols once the haunt of Italian seamen and traders. We'll be staying in a luxurious waterfront hotel so you'll have the afternoon free to enjoy the beach or go for a walk along the waterfront into town to visit the 10thC Monastery. The evening will find us enjoying the exquisite Catalan cuisine at our Welcome Dinner.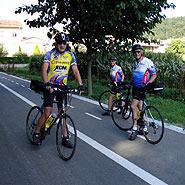 Day 2
San Feliu de Guixols - Girona ride of 41km / 25.5m
Our first day on the bikes will be part of a two-day ride along Spain's most famous 'Trails-for-Rails'. The easy route we'll follow today will take us through the pastoral countryside of rural Catalunya following the old tramline that once linked Girona with the Costa Brava. We'll arrive in Girona in plenty of time to explore this fascinating town with the highest standard of living in Spain. The medieval Jewish quarter, known as the Call, is the best-preserved in Western Europe. Group Dinner.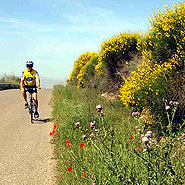 Day 3
Girona - Olot ride of 55km / 34m
Our second day's ride will continue north along one of Spain's first 'Trails-for-Rails' - an incredibly scenic ride through woods of oak and beech into the volcanoes of the Parc Natural de la Zona Volcanica de la Garrotxa. Our destination is Olot - a town with four craters within its urban limits! An absoulely unforgettable group Dinner.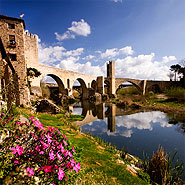 Day 4
Olot - Besalu ride of 32km / 20m
Today will start with a guided hike through the Garrotxa Volcanic Park to the little medieval 15th C hermitage at the bottom of the crater. The hike will take us through the spooky maze-like beech forest that covers the Garrotxa Volcanic Park. Time permitting we will then take a little wooden train into the heart of the largest volcano over an astonishing landscape of hardened lava. From here we'll ride on to Banyoles and around Banyoles Lake where the 1992 Olympics held their rowing events. Later in the day, we'll reach our night's destination - the enchanting medieval village of Besalu with its imposing 11th C fortified bride and perfectly preserved Jewish Miqwe (bathhouse). Free Evening.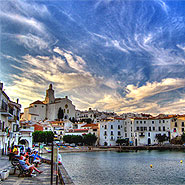 Day 5
Besalu - Cadaques ride of 52km / 32.5m
Easy riding today as we head east to Figueres (Dali's birthplace) and the famous Museo Dali. Satisfyingly bizarre this was his greatest work and his final resting place. From Figueres we transfer to the postcard perfect fishing village of Cadaques - the star of the Costa Brava. Here, we'll visit Dali's house in nearby Port Lligat. Group dinner, overlooking the bay.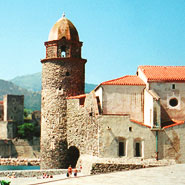 Day 6
Cadaques to Collioure, van shuttle
Today we take a quick shuttle over and through the Pyrenees to the French Cote Vermeille and the postcard perfect seaside village of Collioure. In turn Phoenician, Greek, Roman, Visigoth and Arab - Collioure eventually was discovered by Fauvist artists like Matisse and Derain and immortalized in their paintings. There'll be time to take a tour of the town by following the Chemin du Fauvisme - a trail of reproductions of some of the more famous paintings and where they were painted! Free Evening.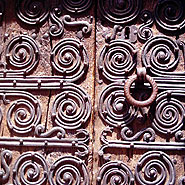 Day 7
Collioure - Cerét ride of 53km / 33m
Our first day's ride in France is an easy one. Woodsy riding brings us to the charming little town of Ceret where the main draw for millions of art lovers is the Musee d'Art Moderne. Many of the works were donated by an earlier generation of artists who spent much time in Ceret. Among them were Picasso, Matisse, Chagal, Maillol and Gris. We'll have plenty of time to visit the museum and have a bite of lunch before crossing a bridge built by the devil in 1321! Group Dinner.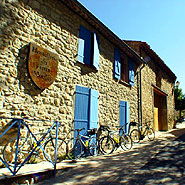 Day 8
Cerét - Cucugnan ride of 50km / 32m or 70km / 44m
Our longest ride of the tour. As we ride northwards today, our first stop will be the tiny walled village of Castelnou. Meticulously preserved by its inhabitants, Castelnou is now home to many artists and artisans and makes a perfect lunch stop while investigating the local handicrafts. We ride on through Languedoc-Rousillon, the largest wine region of France. Domains (wine estates) advertising free tastings, beckon you to the right and left as you pedal along. The end of our day's ride will be in the little 10thC village of Cucugnan at the base of the breathtaking Cathar Castle of Queribus where we'll have a wine-tasting before our Group Dinner.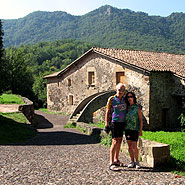 Day 9
Cucugnan to Lagrasse ride of 43km/27m or 64km/40m
Today's ride finds us wending our way through another superb gorge along the Riviere Torgan and bringing us to Villerouge-Termenes with its little castle. Here the last of the Cathars was captured and burned at the stake in 1321. Our night's lodging will be in Lagrasse, listed as one of the most beautiful villages in France and sporting an immense abbey founded by Charlemagne in the 9th century. Group Dinner at a medieval castle.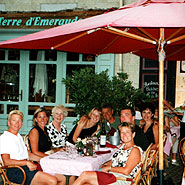 Day 10
Lagrasse to Carcassone ride of 43km / 27m
A short pretty ride today to give us time to explore fairytale 12th century Carcassone with its soaring walls and pointed turrets. One of the most stunning castle fortifications in the world, with a complete village within its walls, it was the mother of all of the great Cathar castles in southern France. We'll have plenty of time to play lord & lady while we explore its many sights before ending the tour with a Gala Farewell Dinner.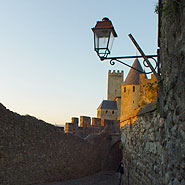 Day 11
Final Day
We'll say "au revoir" at breakfast and offer an a.m. shuttle to the airport for those leaving. Some of you may want to stay and explore Carcassone more fully and perhaps others may want to move on to Paris or Provence - all quickly and easily accessible by train from Carcassone.
Catalan Adventure - updated for 2011
Dates:

11-5-2011 to 21-5-2011
29-6-2011 to 9-7-2011
21-9-2011 to 1-10-2011

Price:

€2980

Single Supplement:

€400

Duration:

10 NIGHTS/ 11 DAYS

Included:

all breakfasts, 8 dinners w/ wine + more

Accommodation:

Converted palaces, Luxury B&B, Small country Hotels

Daily Mileage:

57 km / 35 miles daily average

Activity Level:

Moderate to Challenging

Tour Interests:

Gourmet Foods, Wines, Art