The information below is based on a trip taken by two Saranjan staffers who were the only travel trade people among a trainload of normal customers. Some small changes in service or accommodation may take place from season to season.
There are two Transcantábrico trains. While one train goes from Santiago de Compostela to León, the other goes in the opposite direction from León to Santiago de Compostela. Each train can accommodate up to 48 passengers.
The train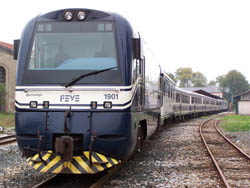 The train is operated by FEVE, the Spanish regional railroad for Northern Spain. It travels on a narrow (one meter, or 3' 6") gauge track. Standard gauge, as used in the US and most of Europe, is 1435mm, or 4' 8 1/2". The main Spanish rail network, operated by RENFE, uses a very broad gauge of 1674 mm, or 5' 5 9/10th". There are several places where the networks share the same stations, and you can see the narrow and broad gauge tracks side by side. The narrow gauge network of FEVE runs in places where broad gauge was not practical or economically feasible at the time when the rail networks were being developed. This contributes to making the Transcantábrico route particulary scenic. In fact, a section of the FEVE network that winds through the mountains between Bilbao and León had been closed for years, but was reopened with an updated track for the Transcantábrico. The train we rode was pulled by a state of the art diesel-electric engine, built in 2002, that can work autonomously or take power from overhead wires when available. The train was composed of a services car, six sleeping coaches, and four public cars: a non-smoking reading car used for breakfast, a lounge/bar car, a non-smoking TV car, also used for breakfast, and a pub car with a small dance floor.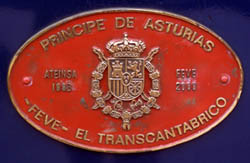 The last car in the train was another service car. The public cars are of antique vintage, lovingly refurbished with discreetly integrated modern amenities like air conditioning. The sleeping coaches are much newer, and ride on state of the art, very quiet bogies. The train typically does not travel while you are sleeping, although it does start moving before breakfast on days where there is a lot of ground to cover. Riding comfort is not a problem in spite of the narrow gauge track.
Accommodations
Accomodations are very private. Each sleeping coach contains four suites, each with a double bed, individual air conditioning, minibar, private bathroom with vanity, toilet and a state of the art shower. Windows are treated so that passerbys cannot peek in from outside during daylight hours. Because this is a narrow gauge railway, the width of the coaches is limited and the length of the beds is limited accordingly. Travellers taller than six feet may find the bed short.

The accommodation is vast compared to typical sleeper train accommodations, but cramped compared to the cabins on new cruise ships. If you have ever bunked on a small boat it will feel very spacious. Each suite comes with complimentary slippers, robes and toilet kits. There is plenty of hot water. The suites are cleaned, beds made, and towels refreshed every day. There is room for bag storage under the bed, a small full height hanging closet, a drawer, a space for shoes, a small desk with a small safe above the minibar, and a narrow shelf with a lip above the head of the bed. This shelf is convenient for cameras, books and other small items. The cabin light and individual reading lights can be dimmed. There is one 220V electrical outlet near the bed, and another one in the medicine cabinet above the sink in the bathroom. We used the bathroom outlet to charge a cell phone, and the bedroom outlet to charge our digital camera and computer with no problem. There is also an outlet at each table in the lounge and dining cars.
Food
Gastronomy is an important component of this tour. The meals are unhurried and vary in character, from country inn food as served to the pilgrims on their way to Santiago, to pretty gourmet dishes. The emphasis is on local or regional specialties and fresh ingredients. Since the train traverses several regions (Galicia, Asturias, Cantabria, Basque Country and Castille & León), this means that you are not likely to get the same dish twice. The menu is set for each meal, but each meal includes a succession of courses to satisfy different tastes. One lesson we learned early on our trip is that a full meal of delicious regional food for lunch and then dinner can be more than enough to satiate, especially after the buffet breakfast. However, after sitting down for a few minutes at each new table and sipping some complimentary wine, the appetite inexplicably tended to return just in time for the first course every time. On the other hand, some passengers just skipped a few dinners and helped themselves from a large fruit basket in the train's reading lounge.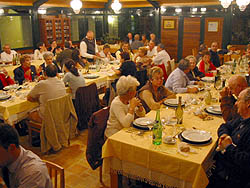 If you have special dietary requirements, it is important to indicate them at the time of reservation. Normally the food consists of typical regional dishes, which include meat, seafood, dairy products, etc. The ability of restaurants to accommodate different diets may vary.
Breakfast is a buffet set up each of the two lounge cars on the train. Espresso is available. All lunches and dinners are in local restaurants, except for one dinner on the train. Since every lunch and dinner is in another restaurant, table arrangements vary from long inn tables to small tables for 6 to 12 people. This allows you to mix and interact with different people if you so desire. Note that in Spain many people smoke, and non smokers do tend to choose where they want to sit accordingly. Smokers are typically polite about this. The the lounge cars where breakfast is served are non smoking.
Language
Unless you are part of a group that chartered the train, the other passengers may be a mix of Spaniards, North Americans and other nationalities. In Spain, the Transcantábrico is an upscale "special occasion" treat for honeymoons or special anniversaries, and it is likely that at least some of the Spanish passengers will be professional people with a good command of English. The official languages on the train are Spanish and English, and even if you don't speak a word of Spanish you should not feel uncomfortable or neglected. Guided tours are always conducted in both languages.
Communications
Every Transcantábrico suite is equipped with a telephone that can be used to call other suites, the train staff or an outside line. There is no internet access on the train, but the larger cities visited on the journey have internet cafes. Tri-band or quad-band U.S. cell phones that use GSM technology and are designed to work outside the U.S. can be used in Spain, but otherwise U.S. cell phones do not work outside of North America. Saranjan Tours can arrange for a cell phone for the duration of your stay in Spain. See our page of
practical information for Spain
for more information about communications, electricity, etc.
Fitness
There are steps involved, and navigating the corridors on the train requires a minimum level of agility. However, if you can walk a few city blocks easily you will enjoy this train. Many of the excursions off the train involve some walking, especially since vehicle traffic is banned or restricted in the core of most Spanish cities. On our trip, a few passengers elected to pass on some excursions, or were content to just stay with the bus. The tours and train schedule are arranged to make this easy.
There are plenty of opportunity for walking. Early morning jogging is also practical—as long as you remember the scheduled departure time for the train.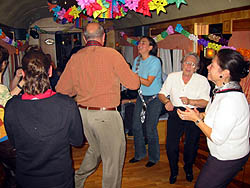 The dance floor in the pub car looks like it can also be pressed into service for aerobics or floor work except of course during evening entertainment or dancing.
Attire
The most common attire when we rode the train was urban leisure or business casual attire. Some men wore a sports jacket all the time, others were rarely seen in anything more dressy than a sweater or a windbreaker. Sweats--except at breakfast--would probably be too casual. Typically, people liked to dress better for dinner, but there was no occasion that required formal attire. A couple of ladies on our trip did put on quite a fashion show, although we still wonder where they stored all those outfits. Northern Spain is called "Green Spain" for a reason: the weather, especially in the spring and fall, is not always sunny and dry. The train and the bus carry a small stock of umbrellas, which will be handed to you if necessary.
Accessibility
Unfortunately, neither the train nor the bus used for excursions from the train are wheelchair-accessible. You should be able to negotiate a few steps.
Laundry
Limited laundry service is available on the train, by arrangement with the train staff.
Baggage
We strongly recommend that you use soft sided baggage that can easily be stowed under the bed. Protect fragile items in a hard sided container, but such a container should not exceed airplane carry-on size. Keep in mind that the bar in the hanging closet is only about 15 inches long.
You should take a small shoulder bag or daypack so you can keep valuables, prescription drugs, and other small necessities or very fragile items with you while the baggage is being transferred to and from the train. Note that you will typically be carrying this small bag on a walking tour a the end of the trip, so choose something small and light. Make sure this small bag is pickpocket-proof because you may be walking through crowded places.
The Transcantábrico trip includes
Seven nights accommodation on board the train (in a Suite).
Seven dinners and eight lunches of typical northern Spanish cuisine (wine, coffee and liqueurs included).
Seven buffet breakfasts on board.
Music and entertainment in the pub coach.
Planned excursions, including tickets for museums, churches, etc.
Luxury Coach that accompanies the train throughout the complete trip.
Return to the Transcantábrico main page
Transcantábrico itinerary, schedule and rates